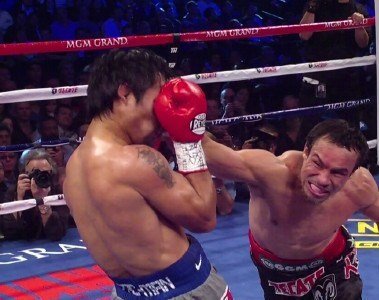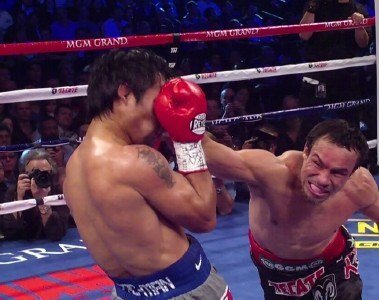 By Marcus Richardson: Whether Manny Pacquiao and Juan Manuel Marquez end up fighting for a fifth time may rest on whether both of their wives will allow them to continue fighting. It's no secret that Marquez and Pacquiao's wives both want them to retire.
Pacquiao's wife was stunned at seeing Pacquiao knocked cold by Marquez in the 6th round in their fourth fight on December 8th, and she's worried that Pacquiao could badly hurt in a 5th fight. She wants Pacquiao to retire straightaway, although she's leaving the final decision with him.
Marquez's wife had an agreement from Marquez that he'd retire after the fourth fight with Pacquiao, but now Marquez is hoping to talk his wife into allowing him to fight one more time before retiring in a final fight with Pacquiao. So far, Marquez's wife is reportedly still adamant about wanting him to hang up his gloves. He's going to try and convince her in the coming weeks/months to allow him to fight Pacquiao for a 5th fight.
The problem with the two fighters is that they'll want to keep fighting unless something or someone makes them talk. The competitive drive between these guys is too strong for them to retire when the interest in still there with the boxing public.
It's natural that Pacquiao doesn't want to retire because he was knocked out so badly by Marquez. For him to retire off of this loss would be similar to how Ricky Hatton retired after getting knocked out by Pacquiao. It obviously bugged Hatton a lot to go out of the sport with that kind of loss, and he eventually came back to try and put the defeat behind him.
Pacquiao would likely have a lot of problems retiring off of this loss because he's still capable of fighting on a high level. He may have had problems handing Marquez's power in this fight, but if you put him in with other top welterweights like Tim Bradley, Victor Ortiz and Devon Alexander, Pacquiao can probably still do really well.
Ultimately, Pacquiao and Marquez's wives will let them fight again but if one of them gets knocked out, I think it could be over for them and it should be. Marquez is 39, and there really aren't any other big fights out there for him like Pacquiao.
He can't fight Floyd Mayweather Jr. again because he already lost badly to him, and I don't think Marquez will want to take smaller fights against Brandon Rios because the money won't be nearly as good as what he's been getting against Pacquiao. If Pacquiao loses by another knockout, then that's probably a good sign that he doesn't have it anymore that he should retire.