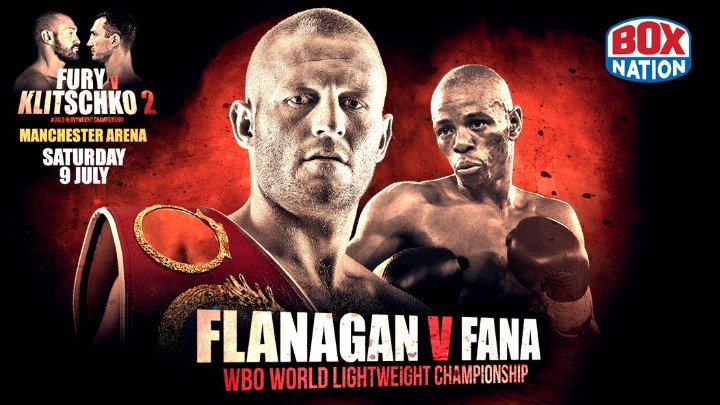 Terry Flanagan of Manchester is thrilled he will be appearing on the July 9 under-card of heavyweight champ Tyson Fury and his defence against ex-champ Wladimir Klitschko in their rematch in his hometown, but fans may not like the man chosen to be the unbeaten WBO lightweight's challenger. 26-year-old Flanagan, 30-0(12) will face 42-year-old Mzonke Fana of South Africa next month. Now, to be fair, his age aside, Fana, 38-9(16) is not a bad, or shot fighter, even if he has seen better days.
But it's been a long time since Fana was either a world champion or fought a truly meaningful fight. Some fans may remember Fana best from his unsuccessful challenge of the great Marco Antonio Barrera for the WBC super featherweight title. That fight, a 2nd-round stoppage loss for Fana, took place way back in 2005. Fana has never been blown out that quickly before or since and it is unfair to judge him by that showing alone. All the same, will anyone really believe Fana has a genuine shot to beat Flanagan?
Flanagan, a physically strong southpaw, may not be a devastating power-puncher, but he is approaching his peak, he has won two of his last four by stoppage and he is fighting at home. Fana, who reigned as the IBF 130-pound champ in 2007/2008, has not fought in England since 1999 (a loss) and he has not really fought anyone of note since his 2013 TKO defeat to Paulus Moses. Fana, who has campaigned as a lightweight since that loss (bar a couple of fights down at super-feather) has won his last two outings, but he really does look to be up against it in a big way in this upcoming title challenge.
Will Flanagan become the third man to stop Fana on July 9? It looks a strong possibility. But how many plaudits will Flanagan get if he does KO the veteran? The critics will argue how "Turbo" could have, and should have, picked a better challenger than the South African. Let's hope we do see at least a competitive fight next month.