Undisputed lightweight champion Teofimo Lopez has confirmed that he'll be defending against George Kambosos Jr on June 5th on Triller pay-per-view at the Marlins Park in Miami, Florida.
Teofimo, 23, will be making his first defense of the four 135-lb titles he won last October with a win over Vasily Lomachenko.
The event will have musical entertainment, according to Teofimo, which appears to be standard for Triller shows.
The Top Rank promoted Teofimo is predicting his fight with Kambosos Jr will bring in over 2 million pay-per-view buys, which he feels will cement him as a star.
It's unclear whether Teofimo is serious or not about his lofty projections because it's not a fight that the U.S fans are demanding.
They would prefer to see Teofimo fight Lomachenko again or Devin Haney, Ryan Garcia, Gervonta Davis. Teofimo's purse demands may make those fights impossible ever to take place, unfortunately.
Teofimo vs. Kambosos on June 5th
"I'm fighting June 5th in Miami, Marlins Ballpark," said Teofimo Lopez on social media about his title defense against Kambosos.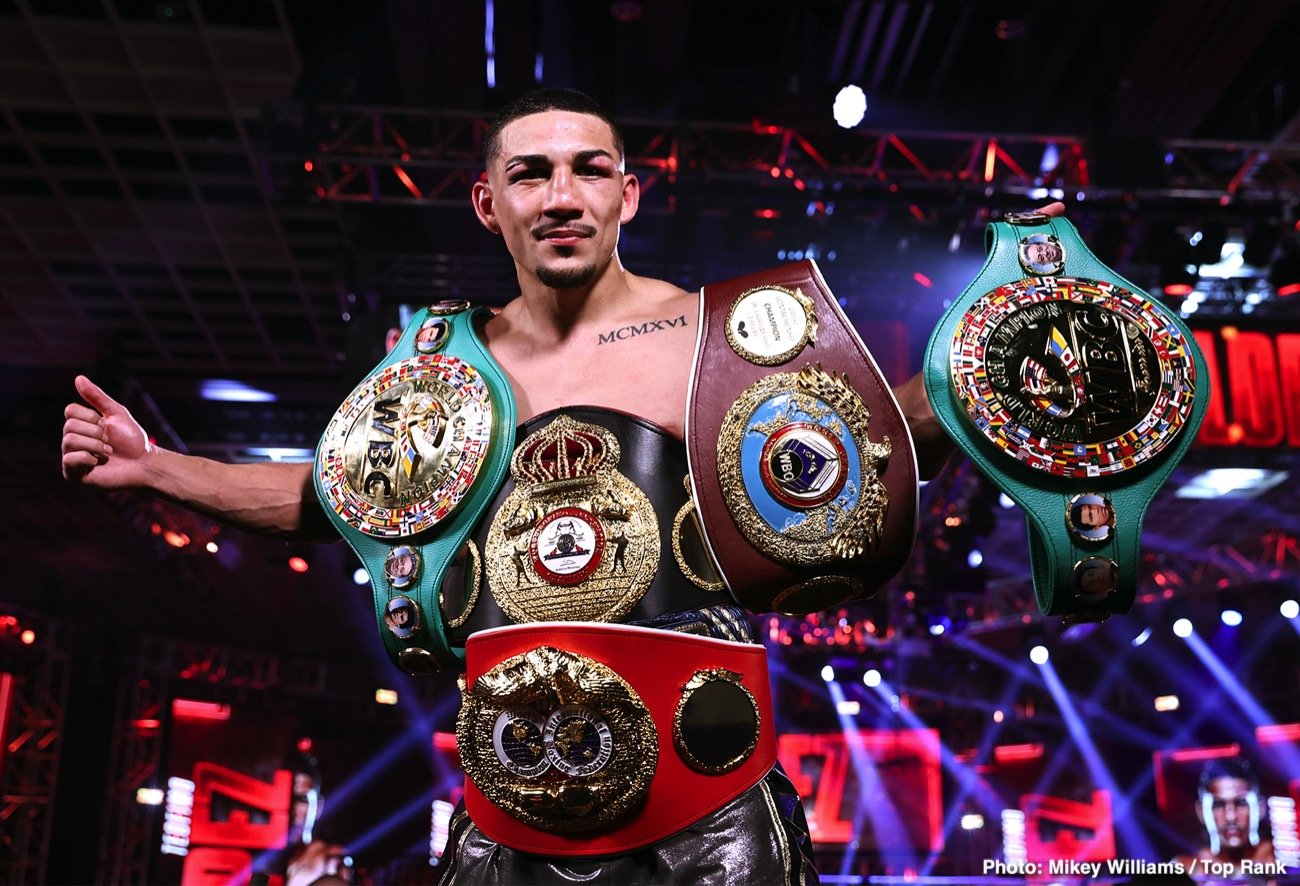 "It's going to be a movie, I swear. We're going to have. I can't say the names at the moment, but it's going to be great, man.
"I'm fighting George Kambosos Jr. 19-0 with 10 knockouts. I got to stay ready. I don't got to get ready; I've been ready.
"It's in Florida, and Florida is open to the public. I'm looking forward to everything; we just finished doing the promo set yesterday.
"It was real nice. Big things coming, man. We got tremendous [musical] artists, and we got tremendous rappers on.
"I swear it's going to be nice, man. June 5th, live on Triller in Miami. It's going to be awesome, man, I swear," said Teofimo.
It's going to have to be a lot of great music to encourage fans to purchase the Teofimo vs. Kambosos event on pay-per-view. When fans purchase fights, they generally don't do it for the music.
It's nice that Triller wants to have music in between fights, but that might not be enough to sell the Teofimo-Kambosos fight.
Is there a popular group for the event to bring in the 2 million buys that Teofimo is projecting? Probably not.
We don't know how long Teofimo intends on staying at 135. If he's going to stay there for another two or three fights, it might be better for him to vacate the titles if he continues to be pushed into making mandatory defenses against fighters that the U.S fans have never heard of or seen before.
Kambosos motivated to beat Teofimo
"Everything I've worked hard for leads to this moment and the biggest fight of my career," said Kambosos to Sporting News Australia. "All those hard years, all those blood, sweat & tears come down to this.
"As a fighter, you want to get to your world title and win your world title. I've got a fantastic opportunity where it's every single belt.
"This is a massive, man. This is huge, and I'm leaving no stone unturned to capitalize on this opportunity and become the unified champion of the world.
"There's never been an Australian fighter that's fought for every single belt. The IBF, the WBA, the WBC, and WBO titles plus the Ring Magazine," Kambosos Jr said about wanting to rip the five titles away from Teofimo Lopez.
"That's five world titles on the line. When you work hard and push extremely hard to these opportunities, this is what happens.
"These mega fights come about. Obviously, he's got the belts, Lopez has got the belts, and he never planned on getting all these belts that quick and all this money this quick at this young age.
"I still see this guy as a kid. The way he acts, the way he carries on, the way he's dancing in his Instagram videos. He might do a Hip-hop video because this is boxing.
"He might have the belts now, but soon enough, you will lose them. I've got no fear of this kid. All these other fighters have feared him and were scared of him.
"I'm coming straight at him. I'm sure his vision is nowhere near like mine. These boxing enthusiasts and fans, they're talking about the Haney's and the Garcia's and the Davis's, but I'm the man in front of him.
"He should be worried about me because I'm a dark horse in the division. I'm the guy that is young and hungry. I've got the hunger," said Kambosos.
The Australian Kambosos will be a massive underdog on June 5th when he gets in there with Teofimo. Kambosos hasn't shown the kind of talent that suggests that he'll win, and he may end up losing badly.
His most notable wins were against Lee Selby and Mickey Bey, and he didn't look outstanding against either of them. Kambosos won the fights by close split decisions.
Kambosos focused on different things
"It's different between myself, and you compare me to Lomachenko. Maybe, yes, school-wise, Lomachenko is a better fighter than me.
"But when it comes down to the will and the hunger that I have, that's where the difference is, and that's where Lopez will fill it.
"It's got a good ring to it when you think about it. I'm the best fighter in the country, and I'm the highest-paid fighter in the country [Australia], but it's not about that.
"It's not about the money. It's about the legacy and the glory. His side of things, it's all about the money," Kambosos said about Teofimo.
"We heard him up to the purse bid about this fight. 'I'm worth $10 million; I'm worth $5 million; I'm worth $6 million.'
"It's always been about the money. For me, you never heard a peep about, 'I'm worth this, I'm worth that.' I just said, 'Give me Lopez, and bring those belts.'
"I've got a great family, and they drive me to be the best I can. Everything I do is for them. They were there when the small purses were coming through.
"They stayed true to me. That's my motivation. My motivation is my kids, my family, and good people around me, my fans. They all support me to get to where I am today.
"I want to show that Australia has a real fighter, and I want to show that we can compete and become the best in the world, and it's great for all the young amateurs coming through," said Kambosos.
Teofimo forcing his fight to a purse bid benefited Kambosos because he's getting a lot more money than he would have.