Artur Beterbiev (15-0, 15 KOs) makes his long-awaited return to the ring tonight to defend his IBF/WBC light heavyweight titles against challenger Adam Deines (19-1-1, 10 KOs) on ESPN from the Khodynka Ice Palace in Moscow, Russia. The action kicks off today on ESPN at 3:00 p.m. ET.
This is one of those fights where you don't want to walk away to the kitchen to get a bite to eat because it's likely to end quickly with Beterbiev making easy work of the novice Deines.
Beterbiev had that death stare going on Friday's weigh-in for the fight, letting fans know that he plans on making #5 IBF Deines his 16th knockout victim.
The most compelling thing about tonight's Beterbiev-Deines fight is whether Deines will be able to become the first fighter to go the distance against Beterbiev.
Deines chances of winning are nil, as he's not a super talent. Since he has never fought anyone with power or major talent in his career, it's impossible to know how he'll react t getting hit by Beterbiev.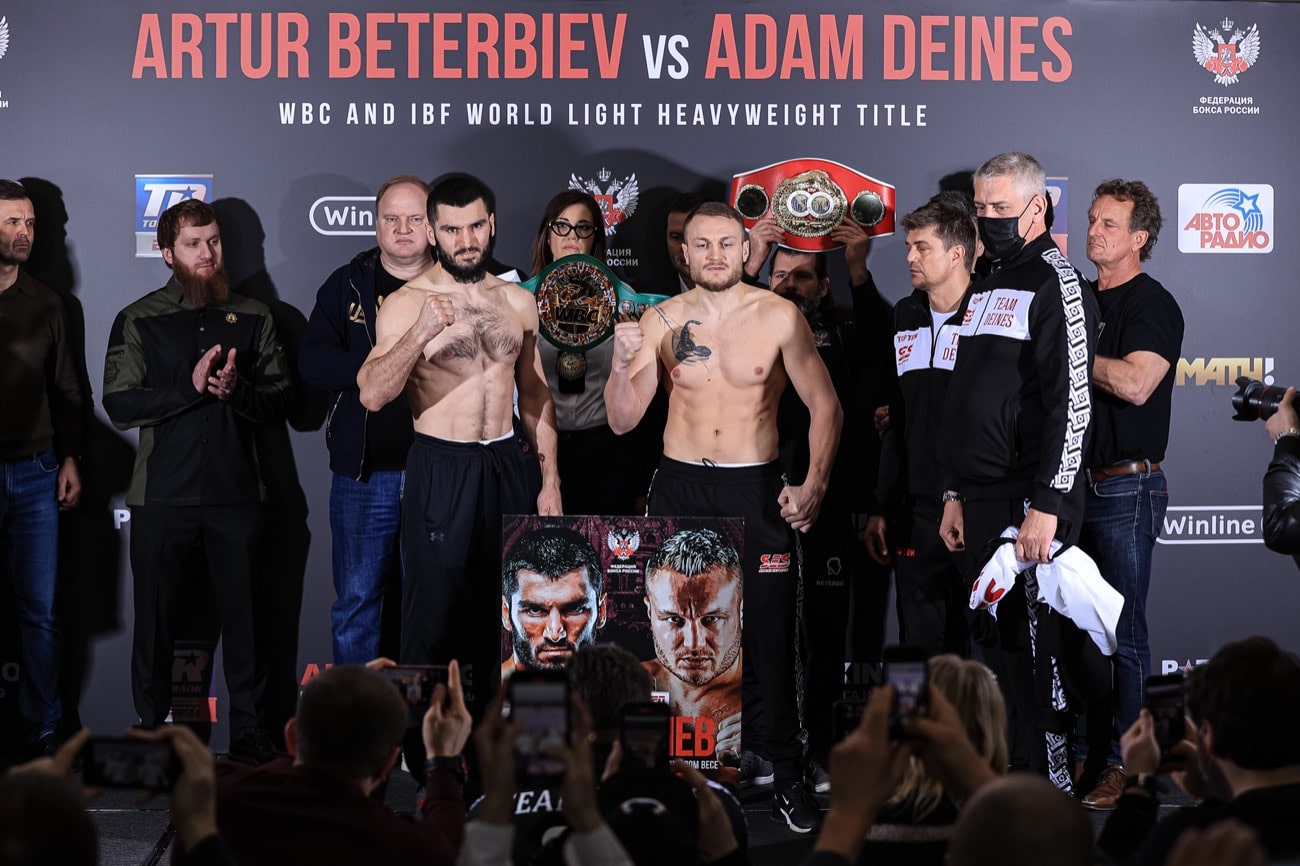 This fight is more of a showcase for Beterbiev to look good and create more talk of a match between him and Canelo Alvarez. That's who Beterbiev would like to fight if the Mexican star is willing to return to the 175-lb division again.
It may not be easy for Beterbiev to knockout Deines, as this guy has never stopped before in his six-year professional career, but then again, he's never fought anyone with Beterbiev's punching power.
The two-time Olympian Beterbiev will be returning to the ring from a 17-month layoff, and it's unknown how the inactivity will impact his game.
Beterbiev's punching power will likely be the same, but he might not be as sharp as he was the last time we saw him in action against former WBC 175lb champion Oleksandr Gvozdyk in October 2019.
The way Beterbiev fought against Gvozdyk, he'll have no problems taking care of the little-known Deines tonight in six rounds or less.
"In 2020, I didn't miss a week of training," he said. "I trained all year long. I do that because I want to fight, and I hope that in 2021 [I'll fight more regularly]," said Beterbiev to Yahoo Sports News
."I have had a lot of experience with these kinds of long layoffs, unfortunately, and so I know how to deal with them," he said. "I feel like there is no question that you will see my best self [on Saturday]. I am ready to perform."
Beterbiev's career has slowed to a crawl recently due to an injury he suffered training for his title defense against Meng Fanlong (16-0, 10 KOs) in 2020.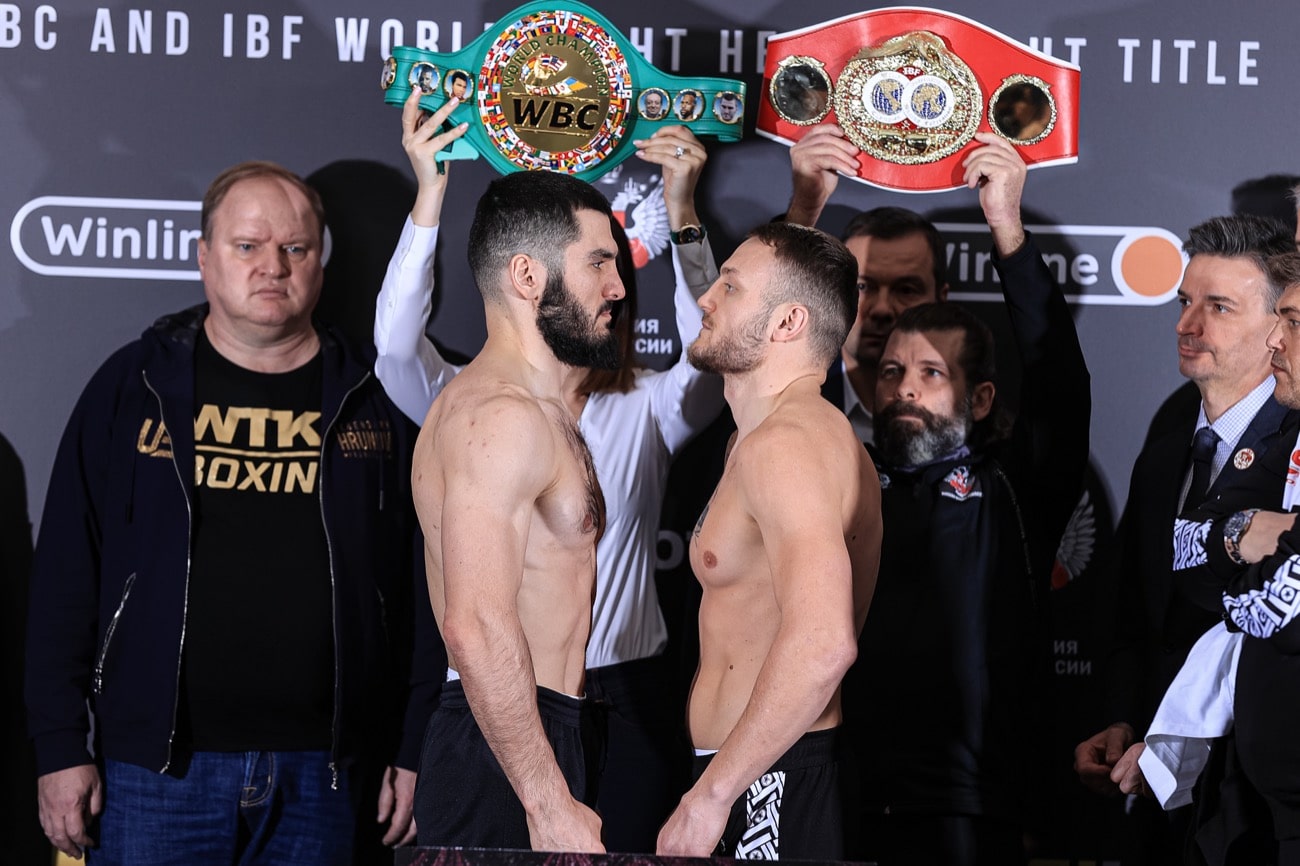 Later, Beterbiev suffered an illness that further delayed his return to the ring. Finally, he'll be returning tonight, albeit against replacement opponent Deines, who the 2012 Olympian Meng easily beat by a 12 round decision in 2019.
Other than Meng, Deines has fought no one recognizable to the average fan. The German-based Russian Deines has spent virtually his entire professional career taking tune-ups, which has helped him build a superficially impressive 19-1-1 record. Unfortunately, it's a record that is filled with fluff opponents.
Deines' best wins:
Zoltan Sera
Stefan Haertel
Elio German Rafael
Janne Forsman
Lukasz Golebiewski
These are purely unknown fighters, which is why Deines has such a great record at first glance. But when you actually look at it closely, it's clear that his management has been maneuvering him after lower-level opposition.
Prediction:
This will be an easy knockout for Beterbiev tonight, likely by the fourth round. Deines is a guy that has fought no one to get to this point in his career, and the IBF shouldn't have given him the #5 ranking based on the terrible opposition he's faced during his career.
If Deines goes into a sparring partner survival mode, he might go the full 12 round distance, but it won't be easy. Beterbiev is an excellent body puncher, and he'll take Deines out with shots to the midsection if he goes into his shell against the ropes tonight.
This is a perfect example of why the sanctioning bodies need to be phased out and replaced by one governing body that ranks fighters based on quality wins and potential.
Tonight will be the second time in Deines' career that he faces a world-class opponent, and that's bad news for him and the fans hoping to see a good fight.
As long as Beterbiev stays healthy for the remainder of the year, there's a chance he could face Dimitry Bivol and the winner of the Joe Smith Jr. vs. Maxim Vlasov fight.
Of course, Beterbiev would jump at the chance to fight Canelo Alvarez if he were given the opportunity, but the odds of that happening are low.
Canelo wants to unify the 168-lb division this year against much easier targets in Billy Joe Saunders and Caleb Plant. Those guys can't punch like Beterbiev, so the chances are good that Canelo will accomplish his goal.
It's fair to say that if Canelo had any desire to mix it up with Beterbiev, he would have taken the fight with him in 2019 when he moved up to 175 to win his fourth-division world title against the deteriorated Sergey Kovalev.