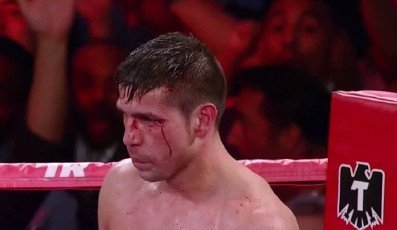 By Rob Smith: WBC middleweight champion Sergio Martinez isn't just content with getting a rematch against Julio Cesar Chavez Jr. next year; Martinez also wants a fight against undefeated WBO junior middleweight champion Floyd Mayweather Jr. Martinez seems to believe that he can get Mayweather in the ring to face him, but the signs aren't there. Mayweather Jr. is totally silent about a fight against Martinez.
Martinez said to Punto Pelota on Spanish tv, "[Mayweather] be ready because I'm going to find you in 2013."
The odds are probably very, very low that Mayweather decides on taking the dangerous punching Martinez because Martinez hits too hard and there's less dangerous options out there for Mayweather to make big money against rather than risking his neck against a bigger and stronger fighter like Martinez.
Martinez looked scary good in beating former WBC middleweight champion Julio Cesar Chavez Jr. by a 12 round decision on September 15th. The incredible part about it is that Martinez did it while fighting with a broken left hand from the 4th. He was still able to use the left, but the fracture likely kept him from getting all his power into his left hand shots.
Mayweather is coming off of a really hard fight in beating Miguel Cotto last May. It might be asking a little much from Mayweather to now get in the ring against someone even taller, faster and stronger in Martinez. That would be a tough fight now that Mayweather can no longer fight like he used to. Martinez would have almost every advantage against Floyd save for age.
Instead of wasting his time trying to get a fight against Mayweather, Martinez should focus instead on looking to fight WBC junior middleweight champion Saul Alvarez, Miguel Cotto, Austin Trout, Erislany Lara, Vanes Martirosyan or some of the super middleweights like Andre Ward, Mikkel Kessler, Arthur Abraham or Carl Froch. Those are more realistic options for Martinez. Mayweather picks who he wants to fight. His opponents don't pick him.