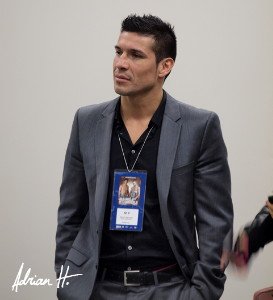 (Photo credit: Adrian Hernandez) By Joseph Herron: After securing his dominance in the Middleweight division with an undefeated three year, six bout campaign, the world of boxing has suddenly become Sergio Martinez's oyster at the tender age of 37.
While many fight fans are clamoring for an immediate rematch with former WBC Champion Julio Cesar Chavez Jr, most boxing scribes see many more enticing match-ups residing south of the Middleweight border for "Maravilla".
Although Martinez has never shied away from a challenge, DiBella Entertainment's "Boxing Publicist" Kevin Rooney Jr. doesn't necessarily see a rematch with Junior as the biggest challenge for "Maravilla".
"Sergio absolutely dominated that fight for eleven rounds and ninety seconds," professes the Junior Middleweight fighter. "A lot of fans seem to be demanding a rematch based on the twelfth round, which is fine. Sergio is by no means leery of getting back in the ring with Chavez, but we think it turns out pretty much the same way as their first encounter."
"Also, keep in mind that Sergio broke his left hand during the fourth round of that fight and was just landing it the rest of the night. While he was still using it throughout the entire fight, he wasn't trying to punch through the target with his power hand; he was merely trying to hit it."
"So if Sergio doesn't break his power hand early in the fight and keeps letting it go for three or four more rounds, who knows if Chavez even makes to the final round. But a rematch is a definite possibility although there are so many more fights out there."
"Also we like the Cotto/Trout fight in December. We would love to see Sergio in a fight with Cotto sometime next year should he get past Trout. Lou called out Canelo immediately after the fight, so we would love to see Sergio in the ring with Canelo as well."
"Because Sergio can still make 154 pounds easily, there are so many great fights that we can make in the Junior Middleweight division; Sergio's natural weight division."
While the prospect of fighting Cotto or Canelo seems enticing to everyone at DiBella Entertainment, the universally recognized Middleweight King has always been adamant about becoming the pound for pound best fighter in the world.
According to Martinez, there's only one way to achieve such a distinction.
"Sergio has always preferred a fight with Floyd Mayweather Jr," asserts Kevin Rooney Jr. "Because Sergio feels that you have to beat the number one pound for pound fighter to become the number one pound for pound fighter, he still really wants the fight with Floyd."
"He's even willing to go down to 150 pounds to make that fight happen. Keep in mind, Sergio has never had a problem making 154 pounds. That's not why he originally moved up to fight at Middleweight. At the time, there were bigger money fights to be made at 160 pounds with Pavlik, Williams, and Chavez Jr."
"But his primary goal has always been to become the recognized pound for pound best fighter in the world. Right now, Sergio currently ranks himself as the number two pound for pound fighter in the world behind Floyd Mayweather Jr."
If the talented boxing publicist had his druthers, he would prefer to see the conception of a mini tournament between Cotto, Canelo, Chavez Jr, and Martinez.
"If I could map out Sergio's fight schedule for 2013, I would love to see a rematch between Chavez Jr. and Sergio, and a big 154 pound fight between Cotto and Canelo, with the respective winners facing each other in the fall of 2013."
"After the completion of that four man mini-tournament, I can't see Floyd Jr, if he's still fighting at that time, turning down the eventual winner if he still wants to be recognized as the number one fighter in boxing."
"That's the fight that Sergio ultimately wants."