Share the post "Robert Garcia: "Maybe Freddie Roach should have been more assertive, but Chavez Jr. is to blame for losing to Martinez""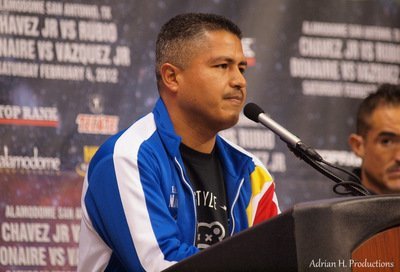 By Joseph Herron – After elite level trainer Robert Garcia's Welterweight contender, Marcos "El Chino" Maidana, took care of business in spectacular fashion on September 15th at the MGM Grand Garden Arena, the coveted boxing coach took a short trip to the famed Thomas & Mack Center to take in Top Rank's main event of the evening between Julio Cesar Chavez Jr. and Sergio "Maravilla" Martinez.
"Right after Maidana's fight, I had tickets to the Chavez/Maravilla fight," admits Robert Garcia. "So I took a cab to go see Chavez and Martinez, because I just knew it was going to be a great fight."
Although the expert trainer initially predicted a big Chavez victory on Saturday night, Robert could see that the rumors out of Vegas were true concerning Junior's lack of time spent in the gym.
"I did predict Chavez to win the fight; and if he would have listened to Freddie Roach and did what he supposed to do in the gym, I have no doubt that he would have won the fight. But he waited too long let his hands go and showed Martinez too much respect throughout the entire fight."
"He gave Maravilla too much space and basically gave the fight away. When Junior finally listened to his corner and started executing the game plan, he almost knocked him out."
The former IBF Super Featherweight Champion is convinced that Chavez Junior's cautious fight tactic was a product of his lackadaisical effort during preparation for the most important fight of his career.
"I truly believe that his lack of effort during camp caused him to hold back. He wasn't confident in his conditioning. He figured that if he started letting his hands go and put constant pressure on Martinez early, that he would get too tired and not finish the fight."
"So he waited until the final round to start letting his hands go, and he almost knocked out Martinez in the one round that he executed the game plan. Imagine if he had done what he was supposed to do in the gym leading up to the fight. Maybe he could have started pressuring Martinez from the very beginning. That would have made the fight very uncomfortable for Sergio."
"But because he let Sergio dictate the pace of the fight and get comfortable and confident throughout most of the fight, he lost the fight. I'm truly convinced that his timid showing was a direct result of his lack of conditioning going into the fight. He was afraid that he would have run out of gas had he attempted to pressure Sergio from the beginning."
Every great trainer insists that prizefights are always won and lost in the gym. Robert Garcia sites Maidana's impressive performance in stopping Jesus Soto Karass as a perfect example.
"Marcos showed up to Oxnard as the perfect student and did everything that was expected of him. He listened to everything we instructed him to do in preparation for his fight against a big, aggressive fighter like Soto Karass and was able to fight through adversity when he had to."
"Chino knew that he needed a lot of improvement when he got here, and he worked extremely hard in the gym to get better. He was very humble during camp and we all saw the results during the fight. He conducted himself like a true professional and served as a great example for all of the other fighters at my gym. I was very proud of his effort in the gym and in the ring on fight night."
The Oxnard, California resident claims that Chavez Jr. could learn a lesson in humility and professionalism from his hard punching Welterweight fighter.
"Maidana was the perfect student. He always showed up to the gym ready to work and never questioned my requests. When I saw Chavez on 24/7, refusing to show up at the gym, dictating training camp on his terms, and completely disregarding his trainer; I thought that was very disrespectful to Freddie Roach."
"Freddie is the best trainer in the world; and to treat him like that was very unprofessional…it just wasn't right. Chavez Jr. is to blame for losing the fight. He acted like he was the boss, calling the shots during camp and telling everyone when and where he wanted to train. I don't think that's right. Maybe Freddie should have been more assertive, but in no way does he deserve the blame for Chavez losing the fight."
"Chavez Jr. has no one but himself to blame for losing his title to Sergio Martinez."
Share the post "Robert Garcia: "Maybe Freddie Roach should have been more assertive, but Chavez Jr. is to blame for losing to Martinez""