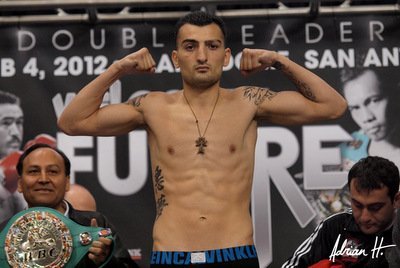 By Joseph Herron:, photo by Adrian Hernandez — On November 10th, at the Wynn Las Vegas, "The Nightmare" Vanes Martirosyan (32-0, 20 KOs) will finally get it on with elite level talent Erislandy Lara (17-1-1, 11 KOs) in the co main event of a tremendous double header, slated to be aired on "HBO Boxing After Dark".
The highly anticipated bout will determine the mandatory challenger for the current WBC Junior Middleweight Champion Saul "Canelo" Alvarez (41-0-1, 30 KOs).
"The Nightmare" from Armenia claims that the WBC mandatory position is somewhat of a dubious formality.
"In my opinion, the two best fighters at 154 pounds will be facing each other on November 10th. Both Lara and I would knock-out Canelo if he were to step in the ring with either one of us, so the WBC should just give the belt to the winner of our fight and just tell Canelo to go home because he's never going to fight us."
"I mean, think about it. How many natural 154 pound fighters has Canelo ever fought?
Although the 22 year old Mexican fighter has held the WBC distinction since March 5th, 2011, Alvarez controversially won the coveted strap by defeating current Welterweight fighter Matthew Hatton of England at a catch weight of 150 pounds.
Since becoming the WBC Champ, Canelo has defended his title successfully five times. Four of the five title challengers fought extensively at lower weight classes. Only Ryan Rhodes of the United Kingdom fought the majority of his career in the Junior Middleweight division.
His chosen path of opposition doesn't sit well with Martirosyan.
"They brought Carlos Baldomir out of retirement for Canelo's first fight at 154, poor guy. Then he fought Lovemore NDou, then Ricky Hatton's brother, Alfonso Gomez, Kermit Cintron, and an older Sugar Shane Mosley.
"They made former Lightweight Josesito Lopez move up in weight to fight him, and now I hear that Golden Boy is trying to make Marcos Maidana move up to 154 to fight Canelo. This isn't right."
"I don't care what the WBC says, they're favoring Canelo Alvarez. They can deny it, but that's what it is."
It's hard to argue with the undefeated contender; especially when one observes the proposed "road blocks" the WBC and Golden Boy Promotions have thrown in front of Martirosyan's path of progress.
After winning the WBC Silver Junior Middleweight belt in a supposed title eliminator with Saul Roman in June of 2011, the World Boxing Council reneged their original consideration and deemed his WBC Silver title winning effort a mere eliminator semi-final.
While allowing the WBC Champion to defend his belt against former Welterweight fighters, Martirosyan was asked by the sanctioning organization to face Alfredo Angulo, James Kirkland, and Erislandy Lara; who are among the most talented fighters of the packed 154 pound division.
After the harsh realization that a WBC Championship opportunity was not going to materialize without facing one of the aforementioned fighters, Vanes Martirosyan and promoter Top Rank set their sights on making a fight with the frequently avoided Erislandy Lara.
"I was criticized by the media and the fans for fighting guys like Richard Gutierrez and Troy Lowry, but I don't think they knew about all of the politics involved. I want to fight the best fighters in boxing. I always have."
"How do you think I got the nickname, "The Nightmare"?
According to various sources, Vanes received the nickname for being one of the most formidable fighters in the amateurs; defeating the likes of Timothy Bradley, Andre Berto, and current WBA Junior Middleweight Champion Austin "No Doubt" Trout, which was the last time anyone defeated the Las Cruces, New Mexico resident.
"Trainers in the amateurs used to say that I was a nightmare match-up for all of their fighters and they hated seeing my name in their bracket. I still have the same problem. No one in the division wants to face me."
While it's uncertain which opponents will be willing to step in the ring with the technically brilliant Junior Middleweight fighter in the near future, Vanes' primary focus is currently on Erislandy Lara.
"Right now I don't want to worry about that. At this time Canelo is nothing to me. Right now my main focus is on Lara. That's who I'm facing on November 10th, and that's who I'm getting ready for. I watch his fights every day. I eat, sleep, and think Erislandy Lara."
"But, it's going to be interesting to hear what the WBC has to say when I beat Lara and become Canelo's mandatory challenger again. Will they come up with another fighter I have to face before getting my shot at their title? That's one of the reasons why I wanted this fight."
"It's ridiculous how the WBC favors certain fighters and treats everyone else. It's not fair. I'm not the only fighter they do this to. It's not good for boxing and it's definitely not good for the young fighters who are coming up and trying to make a name for themselves."
"If the sanctioning bodies don't honor their own ranking systems, how do they expect the promoters, fighters, or fans to respect them?"
The 26 year old fighter makes a solid point.
In seasonal sports, where governing bodies make set schedules for participating teams, their respective fans can always count on several big match-ups and rivalries occurring every year.
The fans know that the New York Yankees will always play the Boston Red Sox at least 16 times per year. Fans of the Dallas Cowboys look forward to playing their heated rival Philadelphia Eagles twice every NFL season. The Los Angeles Lakers share the hardwood with their hated enemy San Antonio Spurs at least four times on the annual NBA schedule.
What would happen to the NFL if the Baltimore Ravens refused to play the Pittsburgh Steelers on a given Sunday because they weren't ready, and the commissioner honored their ridiculous position?
Welcome to the wonderful world of boxing.
Ultimately, creating a fair hierarchy, while holding promoters and fighters accountable, is the sole purpose of the sanctioning organizations. It's how promoters gauge potential pairings and competitive match-ups. It's how fans know who the best fighters in boxing are.
While the undefeated Junior Middleweight sees the problem very clearly, the remedy is less obvious.
"I don't know what the solution to our problems could be, because I'm not the promoter or the sanctioning body and I don't get to hear their conversations. I don't know everything that's in their agendas. I don't know what the sanctioning bodies are talking about."
"I wish I did. I wish I was allowed to be in the conference room so I could say, 'do you see what you guys are doing to the sport? Are you guys blind to the hypocrisy?' They can't be blind to their actions. I just think they don't care. I mean who's going to make them change?"
Although Martirosyan's November 10th scheduled bout with GBP fighter Erislandy Lara is a Top Rank promotion, Vanes doesn't see the promotional cold war ending any time soon either.
"If anyone thinks this is the beginning of Golden Boy and Top Rank working together on a regular basis, they're living in a fantasy world. There's too much money invested in certain fighters and the promoters want what's best for their investments. I mean who's going to protect Canelo? Canelo needs to be protected."
Despite the obvious politics of boxing hindering the advancement of certain fighters, the fight fans will be treated to an excellent night of boxing on November 10th in Las Vegas, Nevada.
"All I can see right now is the best trainer in the world, Freddie Roach, holding the mitts and me hitting them while I'm preparing for Erislandy Lara. I just can't wait for the world to finally see what I can do against one of the best fighters in the sport."
"I can't wait for November 10th!"
Neither can the fans, Vanes…neither can the fans.