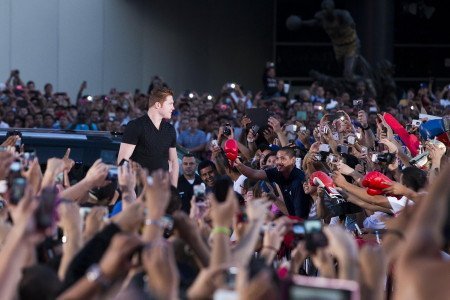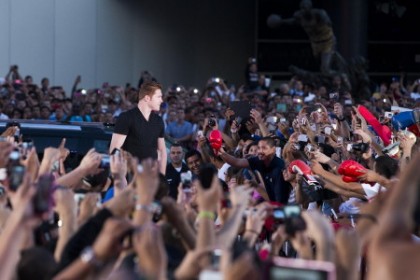 (Photo credit: Esther Lin/Showtime) Golden Boy Promotions CEO Richard Schaefer thinks WBA/WBC junior middleweight champion Saul "Canelo" Alvarez's 12 round unanimous decision win over former WBA junior middleweight champion Austin Trout last April established the 22-year-old Canelo as a fighter that is for a real.
Schaefer thinks the popularity that the red-haired Mexican fighter now has will possibly catapult him and Floyd Mayweather Jr. into breaking the 6-year pay per view record of 2.4 million buys set by Mayweather and Oscar De La Hoya in 2007.
Schaefer said to RingTV "When Canelo beat Trout, it took Canelo to a totally different level. People couldn't say any more that he was a paper champion. He's a real champion."
I think Schaefer needs to listen to more of what the people are saying about Canelo's victory over Trout, because a lot of fans think Trout got robbed in that fight as they feel he should have won. It was a fight that should have gone to Trout by a wide margin, and it was hardly kind of statement made by Canelo in winning that thing.
The fight has a stink about it because open scoring was used and two of the judges were giving Canelo round after round even when was getting clearly outworked by Trout. Canelo had a huge advantage in terms of crowd support because the fight took place San Antonio, Texas, and the audience was filled with Canelo's supporters.
The scoring of two of the judges gave Canelo the chance to skate most of the fight and do little, and the same judges kept giving him rounds even with him getting outworked. Like I said, I had Canelo losing the fight by a wide margin because he simply wasn't throwing enough punches.
As I've said previously, Canelo was like another Arthur Abraham with his low work rate and his habit of trying to steal rounds in the last 10 seconds after having done nothing for the first 2 minutes and 50 seconds.
Canelo will be facing Floyd Mayweather Jr. on September 14th. There won't be open scoring, and Canelo will have to fight during the entire round if he wants to win. If he gets another decision given to him where he's only fighting hard for the last 10 seconds, it's going to turn off a lot of fans. We can't have champions that are getting outworked like Canelo and still being given decisions.