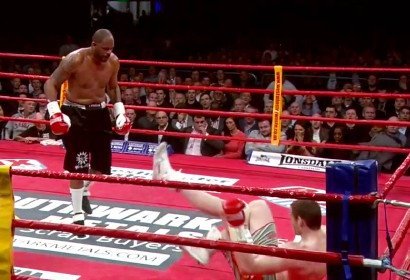 Heavyweight David Price (15-1, 13 KO's) is in a must-win situation this Saturday night against Tony Thompson (37-3, 25 KO's) in their rematch at the Echo Arena in Liverpool, England. Price was already starched by the 6'5" Thompson last February in 2 rounds, and now Price is going for a second shot at the American.
Why is Price doing this? Well, he wasn't supposed to lose to the 41-year-old Thompson, that's why. Thompson was supposed to be another aging lion for Price to pick up a relatively scalp to add to his growing collection other old scalps against 46-year-old Matt Skelton and 41-year-old Audley Harrison.
Price's promoter had been matching him up against almost exclusively old timers for some reason, and it looks like it back fired on him when Thompson turned the tables and showed that he had a little too much left for him.
Instead of learning a lesson and going in a different direction towards some other older fighters that are shot enough not to be a danger, Price and his promoter have decided to gamble that the loss to Thompson was just a fluke thing and that it wouldn't happen twice.
Well, we're going to see whether it was a fluke thing or not on Saturday when Price and Thompson go at it again. If it turns out that Price and his promoter were wrong, then he's going to need to think about other options in terms of his career.
I think Price can still be a decent heavyweight if he scales back his ambitions and chooses to focus on being a good domestic or European level heavyweight. I think Price fits in nicely with the Alexander Dimitrenko type mold where he's good enough to beat a lot of the top European level heavyweights, but not good enough to cut it against the top world heavyweights.
Last time, Thompson took shots from Price in the 1st round, but then nailed him with a right hand in the 2nd that knocked Price down. He couldn't recover from the shot and the fight was halted. It was a decent shot from Thompson, but hardly his best power shot.
Chances are, Thompson is going to nail Price with a similar punch on Saturday night and we could see Price flopping around again on the canvas.
I just hope that Price does the right thing after the defeat and realizes that he needs to downsize his dreams of going after a world title because it'll be pretty much academic after a second loss to Thompson that he doesn't have the chin for the job.