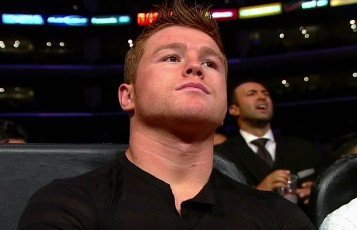 By Brad Cronick: 22-year-old WBC junior middleweight champion Saul "Canelo" Alvarez (41-0-1, 30 KO's) believes he's going to be fighting Floyd Mayweather Jr. (43-0, 26 KO's) on May 4th next year. Alvarez wants the fight badly, and it was thought that Mayweather was looking in the direction of fighting WBC interim champion Robert Guerrero, but Alvarez is now saying he's the guy that will be getting the fight with Mayweather.
Alvarez said on his Facebook page "Out next fight is scheduled to take place on May 4, we are close to finalizing the Mayweather fight."
I'll believe it when I see it. I really can't see Mayweather Jr. making this fight with the young Alvarez, but I don't blame Alvarez for getting eager and hoping. It's just that Mayweather tends to take the safe route, and he doesn't tend to take on guys that are tearing fighters apart the way that Alvarez is right now. But perhaps the most important reason why I do see Mayweather taking on Alvarez is because of the way that Mayweather had to really struggle to beat Miguel Cotto last May.
That fight showed how Mayweather's lack of size and power are going to be a problem for him if he were to start taking on bigger guys at 154 with better boxing skills than Cotto. Alvarez, 5'9", may only be one inch taller than Mayweather, but he's got a much bigger frame and he's a lot stronger. I'd have no problems seeing Mayweather beat Alvarez with ease if this was Mayweather in his last 20s, but he's 35 now, and he doesn't look as fast or as quick on his feet as he once was. Alvarez would give him big problems right now.
Alvarez is still pretty much unproven. Golden Boy Promotions has been matching him against fighters from the welterweight and light welterweight division, such as Kermit Cintron, Alfonso Gomez, Matthew Hatton, Josesito Lopez, Lovemore N'dou, Carlos Baldomir, Shane Mosley, and Jose Miguel Cotto. We could see Alvarez struggle if and when he finally fights a junior middleweight with some talent like Austin Trout.
Mayweather can beat Alvarez if he fights like he did when he beat Juan Manuel Marquez in 2009. Mayweather has to use movement and make sure he doesn't stand in front of him like most of the welterweights that Alvarez has been facing lately.