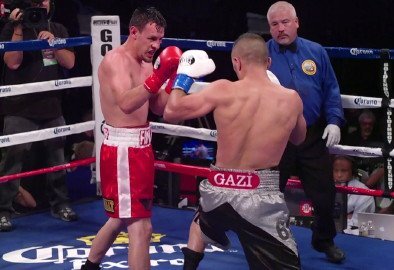 By Joseph Herron: On Thanksgiving weekend at the Citizens Bank Arena in Ontario, California, four division world champion Robert "The Ghost" Guerrero (30-1-1, 18 KOs) will face his toughest test to date when he defends his interim WBC Welterweight title against former 147 pound world champion Andre Berto (28-1, 22 KOs) on the biggest stage of boxing, HBO.
Despite being an avoided fighter throughout the majority of his career in the Featherweight, Super Featherweight, and Lightweight divisions, the 11 year fight veteran has patiently waited for his big moment to face a marquee fighter and a legitimate champion on a big HBO event.
Now that he finally has his golden opportunity against a two-time Welterweight Champion, "The Ghost" is at long last ready to make his mark as an elite level fighter in the sport of boxing.
Manager Luis DeCubas Jr. spoke out on this week's edition of "The Pugilist KOrner" concerning Guerrero's long overdue opportunity on November 24th.
"Robert is very excited for this fight," insists the lifelong boxing proponent. "For eleven years, Robert has been working towards this moment. While fighting in the lower weight divisions, none of the other title holders wanted to take on "The Ghost" because they felt he was too big and too skilled. That's why we ultimately made the jump up to 147."
"Robert Guerrero is really going to prove his worth on November 24th. After he puts on a dominant performance against a highly regarded Welterweight fighter like Andre Berto, I know we're going to be right back in the position as an avoided fighter. No one will want to touch us after Robert makes this fight look easy."
Although most fight fans and boxing scribes don't share the same level of optimism as the astute boxing manager, Luis Decubas Jr. explains why he is so confident in his fighter.
"If you look at most of the top fighters in the sport, there is one variable that makes them vulnerable to certain opponents. You look at a fighter like Amir Khan, he's got speed but he is vulnerable to a big puncher because of his chin. You look at a fighter like Paulie Malignaggi who can box extremely well but he has no power. Robert Guerrero is the total package who has no apparent deficiencies in the ring."
"He's a southpaw who can box on the outside but can also bang on the inside. He can use the entire ring but can also take the lead proficiently and be the aggressor. He has a great chin, he can punch, and he's got balls. Robert is a chameleon and a stylistic nightmare for anyone in any division."
"If you could describe the perfect fighter, I think you'd be describing Robert Guerrero. We're going to show the world how perfect Robert is when he defeats Andre Berto more decisively than anyone else ever has."
Making an example of a proven winner like Andre Berto will be no small task. Since turning pro in 2004, Berto has only tasted defeat one time.
Against "Vicious" Victor Ortiz in Ring Magazine's "2011 Fight of the Year", Andre treated fight fans to a scintillating slugfest in which the eventual victor, no pun intended, hit the canvas two times and was seemingly out on his feet in the dramatic sixth round of the WBC Championship contest.
To most boxing pundits, Andre is more than a live dog in the upcoming November 24th fight.
But perhaps Luis and Robert see something that most fight fans and boxing scribes are overlooking.
If you look at his last three fights against southpaw fighters, Andre possesses a decisive knock-out victory against Carlos Quintana, a loss to Victor Ortiz, and a very narrow and controversial unanimous decision victory over Luis Collazo.
Many people who witnessed the Collazo bout on January 17th, 2009, felt that Andre was very fortunate to receive the victory on his resume.
Does the two-time Welterweight Champion have difficulty against southpaw opponents?
Luis and company aren't giving away any secrets before their November 24th bout on HBO.
"Look, obviously we're not going to be very specific when we talk about weaknesses and strong points that we see in the ring, but we know that Robert has the advantage in this fight. That's why we are very optimistic going into this contest. Robert is the better fighter and he's going to prove it to everyone come November 24th."
"We know that Andre is a true warrior, and he really proved his toughness during his loss against Victor Ortiz. He got up off the canvas twice and was able to floor Ortiz two times even though he lost the fight. So we know how tough Andre is and he's a two-time world champion for a reason."
"In fact, Andre deserves a lot of credit for just taking this fight. We originally went after the WBO Champion Timothy Bradley and he didn't want to defend his title against a guy like Robert because he knew he would lose. So we want to thank Andre Berto for taking this fight and agreeing to step in the ring with Robert Guerrero."
"But make no mistake about it, Robert will be victorious on November 24th and he will prove that he belongs in the conversation as one of the best pound for pound fighters in the world."