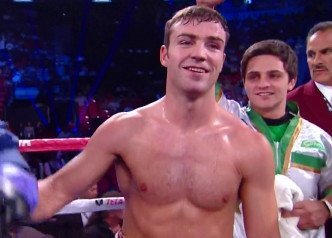 By Joseph Herron: After his one round blow out of former Junior Middleweight title holder Joachim Alcine on September 15th at the Thomas & Mack Center in Las Vegas, Nevada, Matthew Macklin is considered once again to be among the best of the Middleweight division.
Despite losing his second world title opportunity to universally recognized Middleweight Champion Sergio "Maravilla" Martinez earlier this year, the Irish puncher wasn't discouraged as a result of the knock-out loss.
Renowned trainer Buddy McGirt is convinced that Matthew was actually encouraged by his gritty performance against the best fighter at 160 pounds.

"Matthew is ready for anyone in the Middleweight division. The loss to Sergio Martinez didn't derail my fighter. The opposite really occurred. The fight with Martinez took Macklin's game to another level. In preparation for that fight, he was forced to work out some new wrinkles in his fight game and it's made him a more complete fighter as a result."
The tough Irishman has recently received serious consideration as a possible title challenger for the IBF and Super WBA Middleweight Champion Daniel Geale, as well as the hard punching WBA Regular title holder Gennady Golovkin.
Although Triple G is largely considered to be an avoided fighter by most in the division, the expert trainer insists that Macklin would give the heavy handed Kazakhstani a very tough outing.
"Mentally, Matthew isn't the same fighter that we saw last year. After the fight with Sergio, his confidence really increased. He realizes now that he can compete with the very best fighters in boxing. I'm not worried about anyone and neither is he."
"Matthew is ready for any fighter at 160 pounds…even Golovkin."
Buddy talks specifically about the improvements Matthew has made in the gym.
"He's worked on his defensive skills a lot. He fights much smarter now. He realizes that you have to duck sometimes when you're in a gunfight. The key is to punch, and move after you're done punching. He's moving his head a lot more and not leaving it in one place after he throws a punch. He's also stopped looking to land the one big shot. He incorporates more of a variety in his fight arsenal now."
After a near shutout performance by Maravilla over Julio Cesar Chavez Jr. on September 15th, Macklin's competitive showing against Sergio Martinez seems all the more impressive today.
McGirt is confident that his fighter will eventually become a Middleweight World Champion.
"Macklin is a very good fighter and has learned a lot since we've worked together. If he continues to improve and stays mentally focused, I have no doubt that he will beat one of the title holders to become a world champion."