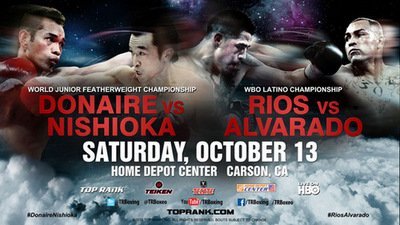 By Mark Klimaszewski – On October 13th, The Home Depot. Centre in Carson, California will see a superb double-header of boxing entertainment. Featuring the 122lb clash between Japanese "Speed-king" Toshiaki Nishioka and "Filipino Flash" Nonito Donaire; and it's saliva inducing co-feature, the 140lb battle between undefeated "Mile High" Mike Alvarado against (also undefeated) former Lightweight World Champion Brandon "Bam Bam" Rios.
This is the kind of billing for fans to get excited about! In Nishioka v Donaire you have what will be a superbly technical, fast-paced chess match that will gather momentum and develop into a full blown war. Nishioka looked brilliant in his outpointing of Mexican hall-of-famer Rafael Marquez in November of last year; his speed and accuracy looked daunting for any potential opponent whilst he really seemed comfortable in there. Toshiaki appears to be at his physical peak right now and is a mouth-watering style match up for his slick, hard-hitting and maybe equally as fast opponent Donaire.
The Flash has struggled to find some career-defining fights outside of his huge upset stoppage victory over the then ultra-formidable knock out artist, Vic Darchinyan, and his shocking 2nd round demolition of then-unified 118lb champ Fernando Montiel. Nonito's left hook was the deciding factor in both those fights and will be a dangerous prospect for the speedy Japanese southpaw. However, Donaire hasn't looked overly impressive since his big win over Montiel and if Nishioka can avoid that left he will surely possess the speed to beat him to the punch through the mid to late rounds. Of course, that's a big "if".
Indeed, if he can't avoid it then the question is- will he be able to take Donaire's power? If the answer to that is 'yes' then I expect Nishioka to use his speed and footwork to pepper the Filipino with razor sharp counters and win a hard fought decision. However, that's far from a 'given' and Nonito will be dangerous from the opening bell to the last. What's not to love about this fight? What the fans will be treated to is a top-drawer, highly skilled bout featuring two of the best boxers the lower weight classes have to offer. All will be revealed on fight night in a scintillating match up that could easily be a 'fight of the year' candidate.
As for the co-feature, the well-used phrase "war of attrition" comes instantly to mind. Rios and Alvarado are both heads-down sluggers who love to come forward and love a good tear up. It may not be anywhere near as graceful as the aforementioned junior-featherweight battle, but this is one of those fights that will pretty much guarantee fireworks! Both men have iron chins, both men possess plenty of pop and both come to fight. It will be interesting to see if Rios' claimed weight issues will be a thing of the past. It's no secret that Brandon's struggles (and subsequent failures) to make weight have made him look less than stellar in his last few outings. Indeed, not since his excellent 'mini Hagler-Hearns' type tear up with Urbano Antillon back in July of last year has he looked as strong and unstoppable. Britain's John Murray gave him a hard few rounds before being stopped in the 11th, whilst Richard Abril pretty much outclassed Rios throughout their contest in April of this year; yet somehow came out on the wrong side of a highly controversial split decision. Rios has everything to prove in this fight and if the weight issues are no longer prevalent, it will be great to see Bam Bam back at his destructive best.
Mike Alvarado is in many ways a mirror image of Rios, albeit a marginally more skilled one. Since his bloody war with Columbian hard hitter Breidis Prescott last year made him a fan favourite, he went to war with Maurice Herrera in April and gave us one of this year's most brutal fights. A give and take war, with Herrera fighting off the ropes for much of it, Alvarado rightly took it on the cards by outworking Maurice in the end. But what a fight! You can bet Mile High is ready to fight a pitched, toe-to-toe battle against Bam Bam Rios next month, and this fight has all the hallmarks of a true classic. One of my personal favourite fights of all time is 2001's Fight Of The Year, Mickey Ward vs Emmanuel Augustus. That was a hellacious head to head slug-fest with neither fighter giving an inch. I imagine Rios v Alvarado will fight a similar fight. Someone's "0" has to go. October 13th just can't come soon enough!