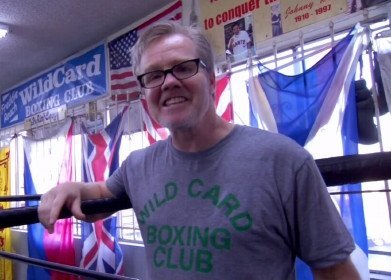 7x trainer of the year, Freddie Roach, has claimed that WBC middleweight champion Miguel Cotto will be in the shape of his life for his Nov. 21 fight with 'Canelo' Alvarez, not only questioning their Mexican opponents dedication but also predicting that the Puerto Rican star has enough in the tank to stop the younger Alvarez late on.
Roach, who claims he has reinvigorated the 34 year old veteran, was in confident mood ahead of the fight, insisting he has the correct game plan already set and that after they win the mega-clash they would happily fight Gennady Golovkin next, even though politics may dictate otherwise.
"I've had a little inside on [Canelo's] training camps," Roach said to fighthubtv. "He trained at my gym for three fights. I don't think he's the most dedicated guy in the world and I think I have a guy that is dedicated, and by that I mean he'll do anything to win."
"Miguel is gonna be in great shape, well conditioned for this fight as the early rounds will be tough but as the fight goes on I think it favours us a little bit," Roach continued. "So I want him to have enough energy at the end to knock this guy out."
"We've got a pretty good game plan set out already and Miguel is more mobile than people think. We're gonna see a little bit of a different Miguel in this fight.," he added.
What Roach and Cotto cannot ignore is that the winner will almost certainly have to begin negotiations with dominant WBA/IBF champion and WBC mandatory, Gennady Golovkin, and after having previously been seen to show little desire for the fight, one could be forgiven for thinking Roach was again sitting on the fence regarding the Kazakh.
"We both say why not? [about GGG] It's a big fight but the thing is there are a lot of negotiations that go on after, so it's not just gonna happen automatically.
"I don't like catch-weights, so if they fight it should be at 160 but again, I'm not the manager and I don't make those decisions."
Twitter @Undilutedpoison