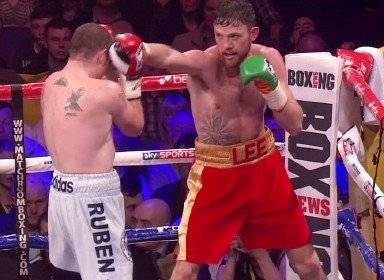 WBO middleweight champion Andy Lee, has today scotched rumours and conspiracy theories that he was seeking to negotiate a unification fight with Gennady Golovkin rather than first face mandatory challenger Billy Joe Saunders.
Lee finally boxes Saunders on December 19th in Manchester in the Queensbury Promotions "X-mas Cracker" bill that will also feature world champions Liam Smith and Terry Flanagan in individual world title fights, though after separate postponements from both Lee and Saunders camps in the build up, a rumour had gathered pace that the fight may not happen at all, with the Irishman going 'Golovkin hunting' instead.
"There are no talks [for a GGG fight]," Lee said today [Thurs]. "It would be stupid of me to look past Billy Joe Saunders.
"If I come through against Billy Joe [then] that's the fight I want," he continued, re-affirming that Saunders is his ONLY focus right now. "No one else can pose the questions of Golovkin that I could. I can hit as hard as him and people freeze when they fight him, they're scared, and the fear of being hit is worse than actually being hit."
Either way, Lee undoubtedly deserves some props as there are not many fighters at 160 who are actively seeking out a fight with the dynamite-fisted Kazakh, and should Saunders be the man who prevails in December, then he won't either; at least not for the foreseeable future.
"If you've just won a world title you don't want to then go and meet Golovkin," he said honestly. "I'd be confident of beating him but maybe in 18 months I'd like that fight."
"We had a little talk with them [K2/Team GGG] before," Saunder's promoter Frank Warren chimed in. "The carrot is there but it will stay there for a while yet. Golovkin is going to be around for a long time."
"Being able to do what needs to be done against Golovkin is hard. I'd want Bill to get more experience at world level [first]. I believe if [Saunders] comes through [this fight] we'd look at the right route," the veteran promoter added.
Twitter @Undilutedpoison