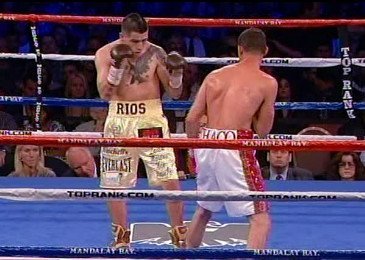 Brandon Rios (31-1-1, 23 KO's) expects to make former 8-division world champion Manny Pacquiao (54-5-2, 38 KO's) sorry for picking him to fight in their upcoming November 24th in the tax friendly [at least for Pacquiao] Macau, China.
Rios thinks he was selected because Pacquiao and his team see him as an easy mark, a guy that Pacquiao can beat without too much trouble. Rios doesn't like that and he wants to make them sorry for selecting him.
Rios said this as quoted by the Bostonherald.com "He picked me because I lost. They probably think 'Brandon is easy to hit. Brandon gets hit all the time.' It's a very different story when you get in the ring with me. They made a mistake in picking me."
I'm sure Rios won't back out of the fight and say no to the more than $3 million he'll be getting for this fight, but you can't blame him for being a little bent out of shape for having been selected for the fight because it does suggest that Pacquiao and possibly his promoter Bob Arum see Rios as vulnerable.
We just saw Rios get out-boxed and stunned a couple of times in his last fight against Mike Alvarado last March. Rios swore up and down after the fight that that he wasn't hurt by Alvarado at any time, but he sure looked like he'd been rocked a couple of times.
There's no shame in getting hurt by a puncher like Alvarado because he's bigger and arguably stronger than Pacquiao. He looked huge out there against Rios. What you can blame Rios for is how bad he looked in cutting off the ring on Alvarado when he used a little bit of movement against him.
Rios didn't handle the movement very well and ended up looking frustrated and clueless with what to do. However, I don't think the 34-year-old Pacquiao will be able to move around the ring like Alvarado did. Pacquiao suffers leg cramps when he moves a lot and that forces him to stand and trade.
If Pacquiao wants to win the fight then he's going to have to beat Rios I the trenches and that may be a problem for him given that he's coming off of a terrible knockout loss to Juan Manuel Marquez last December.