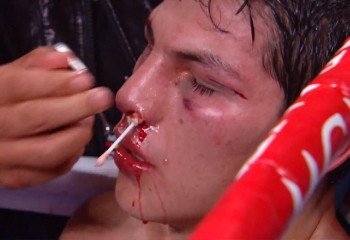 Still not willing to end his long 20-year pro career, 41-year-old Shane Mosley (46-8-1, 39 KO's) will be back in this ring this Saturday night against the young 23-year-old powerful but deeply flawed Pablo Cesar Cano (26-2-1, 20 KO's) in a scheduled 12 round bout at the Grand Oasis Resort in Cancun, Mexico.
Surely if Mosley can't win this fight he should retire, right? Probably not. Mosley will likely keep trucking along with his career win or lose against Cano, and you have to wonder what'll take for him to finally retire. Cano has losses to Paulie Malignaggi and a way past his best Erik Morales. Cano took a real beating by Morales I getting stopped in the 10th round in September 2011.
Cano hasn't improved any since that loss. If anything, he seems to have gotten worse as a fighter because he's slowed down as he's put on weight. Mosley should be able to win this fight if he's even 50% of what he once was, but I'm not sure at this point if Mosley is even running on 50 percent capacity at this point in his career.
He's lost of what he once was, and hasn't fought since last May when he took a terrible beating at the hands of the hulking WBC junior middleweight champion Saul "Canelo" Alvarez. Mosley never stood a chance against the bigger, stronger and younger Canelo and it's surprising that the referee working the fight Jay Nady didn't stop the fight due to the one-sided nature of it.
It's now been a year since Mosley last fought and it's questionable he'll even be as good as he was in the Canelo fight, which wasn't very good. The only positive that Mosley has going for him is he's facing a guy that can probably beat just throwing jabs. That's what Malignaggi did last October.
Like I said, if Mosley can't beat Cano then he really needs to retire because it's over with if he can't win this.