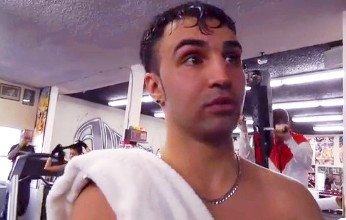 Despite being an underdog in his fight next month against unbeaten Adrien Broner (26-0, 23 KO's), WBA welterweight champion Paulie Malignaggi (32-4, 7 KO's) sees his fight with Broner as being one of his more easier ones he'd had in his 12-year-old career when the two meet up on June 22nd at the Barclays Center in Brooklyn, New York.
Broner said on his social media site yesterday: "Can't sleep a lot on my mind."
Malignaggi responded with "I sleep just fine. No trouble for me because I know this is easy work. This guy is having trouble sleeping? I told him, I'd haunt him in his dreams."
Broner has the advantages in this fight on offense and defense. Malignaggi is going to have to come up with something extra special to get a decision win because he's certainly not going to be able to knock Broner out with his weak shots. Malignaggi is going to be looking to out-box Broner by using his jab and movement to keep Broner from sitting his feet and teeing off.
Broner fancies himself as another Floyd Mayweather Jr., but he doesn't have Mayweather's foot movement or hand speed. Broner fights flat-footed and does most of his work while standing perfectly still with his feet glued to the canvas. Malignaggi can take advantage of that by forcing Broner to move in order to land his shots and not letting him get his feet set to throw. No one has done that with Broner yet and we could see a very different looking Broner when he's forced to fight thast kind of fight.
The biggest wins of Broner's career has come against Antonio DeMarco, Gavin Rees, and Vicente Escobedo. All three of those guys were totally stationary and standing directly in front of Broner. In fact, I can't find one opponent on Broner's resume that used movement against him. Malignaggi is going to be the first and it's going to be a real test for Broner to see how he does in this fight.