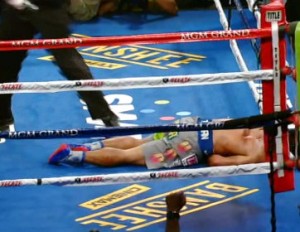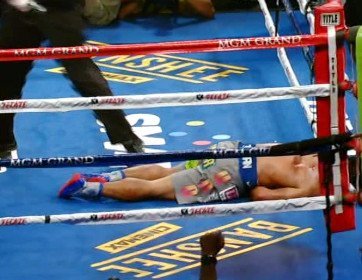 Brandon Rios (31-1-1, 23 KO's) is very happy that he was picked out by his promoter Bob Arum to fight Manny Pacquiao (54-5-2, 38 KO's) on November 23rd at the Cotai Arena, Venetian Resort, Macao, Macao S.A.R., China. Rios, 27, doesn't plan on wasting his opportunity. He wants to knock Pacquiao out and get the praise that will come with a victory over the 34-year-old former 8-division world champion.
Rios said to esnewsreporting.com "I'm going to win this fight. I'm going to knock him out. [Juan Manuel] Marquez kicked his a**. I'm going for the kill."
With Pacquiao having lost his last two fights, it's hard to say who precisely will win this fight on November 23rd. If you were to throw Rios in the ring with Pacquiao in 2009, it would be like feeding Rios to a hungry Velociraptor, but a lot of things have changed since then. Pacquiao has lost his last two fights and he's coming off of a particularly brutal 6th round knockout loss to Marquez last December.
Those losses weren't accidental. Pacquiao did not look like his old self in either of them and he deserved to lose. Even in his loss to Tim Bradley, he didn't look good and got out-worked. Rios is probably at the zenith of his career right now.
He's about as good as he's going to get and he's catching Pacquiao at the right time for him to beat him. Pacquiao likes to slug with his opponents that stand there in front of him, but the problem is Pacquiao is coming off of a really bad knockout and we could see him fold just like Chad Dawson did in his loss to Adonis Stevenson last Saturday night in Montreal, Canada.
There's no question that Rios is going to be on top of Pacquiao from start to the bitter finish and if Pacquiao can't take a power shot without taking another nap, he's going to be in trouble in this fight. I wouldn't want to be Pacquiao fighting a puncher like this if I were coming off of a knockout loss like the one he suffered against Marquez.