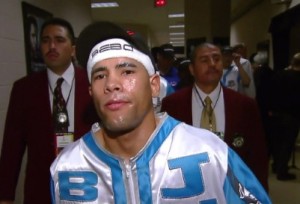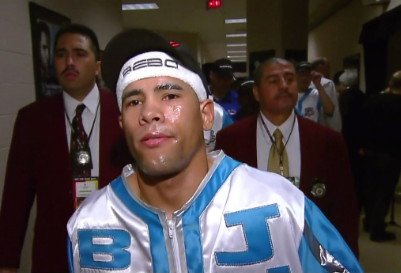 Former two division world champion Juan Manuel Lopez (33-2, 30 KO's) could be the sacrificial lamb for WBO featherweight champion Mikey Garcia (31-0, 26 KO's) to slaughter this Saturday, June 15th at the American Airlines Center, in Dallas, Texas, USA.
Although anything is possible for this fight, it just looks like Juanma will be the lamb being brought into slaughter for the young, 25-year-old Mikey to tear apart to add a name to his resume. Lopez isn't that much older than Mikey at 29, but he's had a lot of hard fights and he's lost two out of his last five fights.
It's honestly been at least five years since Juanma beat what you could consider a quality opponent in Daniel Ponce De Leon. Lopez's wins since then have either come against fringe contenders, C level fighters, or old guys. He lost twice to Orlando Salido and he almost got knocked out by Rogers Mtagwa in 2009. The rest of the guys that Lopez has fought in the past four years have been than dangerous fighters.
Mikey is coming off of an impressive 8 round technical decision win over Orlando Salido in January of this year. Mikey knocked Salido down four times in the fight [twice in round 1, once in rounds 3 and 4] before the fight was halted in the 8th round after Mikey suffered a broken nose from a head clash.
Mikey did look like he was tiring by the 8th round, but he had such a huge lead that it didn't matter. He could have easily coasted the last four rounds of the fight and gotten an easy decision if not a knockout, which was also possible if Salido had kept walking into his shots.
It's going to take Lopez a miracle to win this fight. He's not as strong as Mikey and he's got a shaky chin. With the kind of power that Mikey has, Lopez might be lucky if he can make it to the 6th round of this fight.
Lopez is a good fighter but I think he needs to be matched selectively for him to succeed at this point in his career. He'd probably do well against featherweight champions Evgeny Gradovich and Chris John, but I think he'd be blown out by WBC champion Abner Mares.