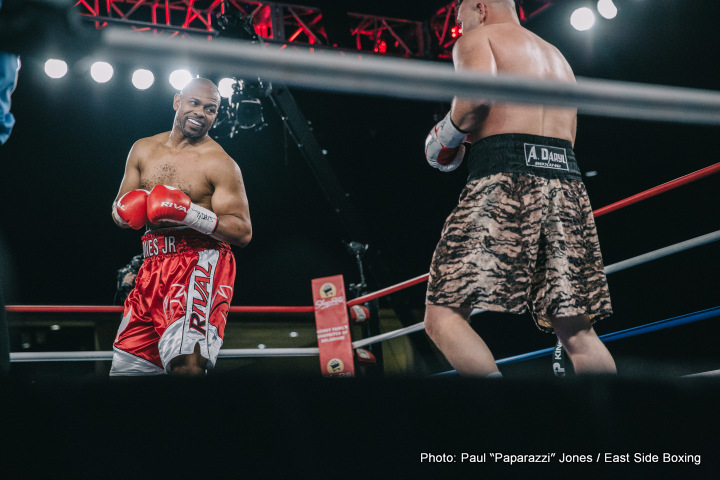 Roy Jones Jr. took care of his over-matched opponent Bobby Gunn tonight in defeating him by an 8th round TKO in a fight that looked more like an exhibition bout than a real one at the Chase Center in Wilmington, DE. The fight was brought to a halt in the 8th. Gunn's trainer stopped the fight at the start of round 8. The fight should have been stopped immediately after the 7th, as Gunn looked hurt and in bad shape.
Gunn looked like a mess, as Jones (65-9, 47 KOs) really had his way in defeating the 43-year-old Gunn (21-7-1, 18 KOs). There was never a point in the fight where the 48-year-old Jones was not controlling the action. The fight got out of hand in the 7th round when Jones hurt Gunn with several hard shots to the head, and he had him on unsteady legs.
It was that point that Jones backed off and let Gunn make it out of the round. Call it mercy or whatever. Jones made a conscious decision not to go for the knockout. It was a nice gesture by Jones, and he could have likely ended the fight in the 1st round if he wanted to. Gunn was not in his class. This had nothing to do with the age of the two fighters. Jones had more boxing ability than Gunn.
The punches that Jones landed in the 7th round had Gunn looking like a punching bag. Gunn was trying his best to get out of the way of the shots, but Jones was so accurate. He wasn't missing anything. This is the type of opponent that Jones has always done well against during his career.
Jones won the vacant WBF cruiserweight title with his victory. It's a nice title for him. Maybe it might have meant more for Jones if he had beaten someone younger and more skilled than Gunn, but it's doubtful that Jones can beat the top fighters in the cruiserweight division. Beating Gunn was nice for Jones, but it doesn't mean he's going to be able to bet someone more talented than him.
Other boxing action on Friday's card:
Kanat Islam KO 1 Robson Assis
Frank De Alba UD 6 German Meraz
Joey Tiberi TKO 4 Bryan Timmons
Dagoberto Aguero MD 6 Olimjon Nazarov