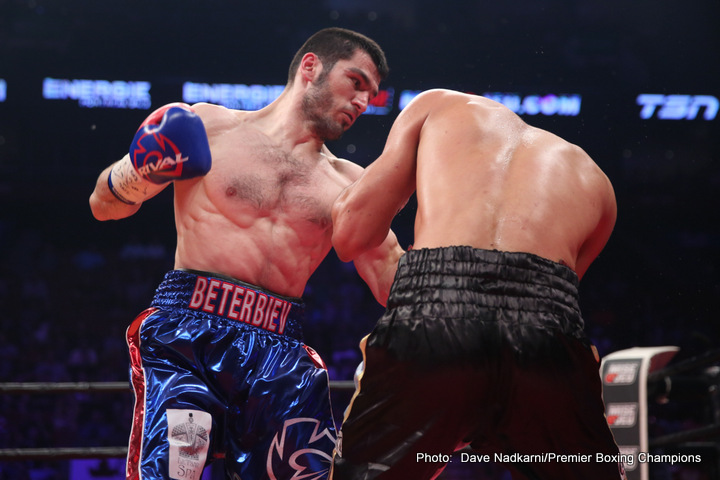 One of the most excitingly powerful fighters in boxing today, unbeaten Russian terror Artur Beterbiev is now just one win away from a shot at a world title. The 11-0(11) banger has announced on his twitter page how he will face Sullivan Barrera of Cuba in a final eliminator for the IBF light-heavyweight title (currently held by Andre Ward; Ward having to fight his return bout with Sergey Kovalev in his next bout) on April 21 in Miami, Florida.
A good match-up, arguably the toughest test yet for the former amateur star with the iron fists, Beterbiev-Barrera could be a great fight. That said, Beterbiev's chilling punching power is so ferocious, fights that are supposed to be tests for him end up ending very quickly in his favour. Can the once-beaten Barrera give Beterbiev a hard fight, maybe becoming the first man to extend him beyond the 7th-round?
Barrera, at age 34 the older many by a couple of years, has been beaten by Ward – losing a wide decision in March of last year, but he has bounced back with a thrilling stoppage win over an unbeaten Vyacheslav Shabransky. Barrera, 18-1(13) is tough, full of heart and he can punch. But Beterbiev really does look something special, so special it's hard to pick anyone over him – and yes, this includes both Ward and Kovalev.
And the really scary part is, we haven't even yet seen the best of Beterbiev. Imagine if the Canadian-based bulldozer got dragged into a rough and tough fight where he is forced to dig deep and really unload with some bombs to ensure victory. The thing is though, can any fighter push Beterbiev that hard? It's interesting these days how fighters are becoming recognised as something very special after having had less and less profights – Beterbiev and Vasyl Lomachenko being two examples.
Beterbiev might well become the holder of a major belt or three, with a handful of defences under his belt, after having had less than 20 pro fights! It's sure going to take a lot to stop Beterbiev from becoming a champion. Barrera has the unenviable task of being the next man to try and derail one of the most wickedly powerful 175-pounders of recent years.