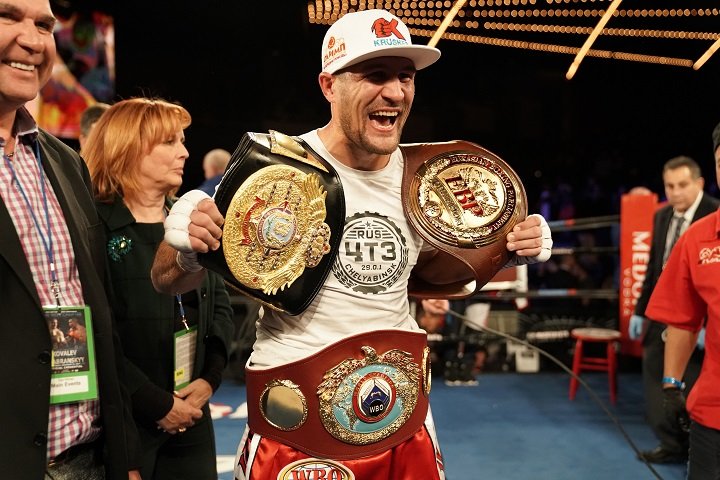 Former IBF/WBA/WBO light heavyweight champion Sergey Kovalev (31-2-1, 27 KOs) overpowered Vyacheslav Shabranskyy (19-2, 16 KOs) in obliterating him in 2 short rounds to win the vacant WBO light heavyweight title on Saturday night in their fight on HBO World Championship Boxing at Madison Square Garden in New York.
(Photo credit: David Spagnolo/Main Events)
Kovalev, 34, knocked Shabranskyy down 2 times in the 1st round and 1 time in the 2nd round. The fight was stopped with Shabranskyy on his feet and taking withering fire from Kovalev.
The referee Harvey Dock halted the massacre at 2:36 of round 2. Dock could have stopped the fight at the end of round 1, and he wouldn't have had too many arguments from the boxing fans at ringside or by Shabranskyy, who looked badly hurt as the round ended.
Kovalev staggered and dropped Shabranskyy at the midpoint of round 1 after tagging him with a right hand. Near the end of the round, Kovalev knocked Shabranskyy down a second time with a big right hand. To his credit, Shabranskyy got back to his feet and made it out of the ring.
Kovalev won the fight, but he didn't show the type of boxing skills that would suggest that he'll beat the top fighters in the division like Artur Beterbiev and Dmitry Bivol.
—
In the co-feature bout, Barrera (21-1, 14 KOs) beat Felix Valera (15-2, 13 KOs) by a 10 round unanimous decision in a fight marred by the referee Michael Ortega taking points off repeatedly against Valera for low blows. Valera knocked Barrera down in the 1st. Later in the round, Barrera knocked Valera down. That knockdown looked like a slip. The referee appeared to blow the call.
Barrera was cut over his right eye in the 2nd round. The cut worsened as the fight wore on due to Valera landing some big shots on it.
It was very strange the way that Ortega would just stop the action and take points away from Valera each time he would land a low blow. Referees usually give plenty of warnings before they take off points. Ortega started taking off points from Valera on the second low blow of the fight. From there on, Ortega took away 2 more points from Valera when he hit Barrera low in round 6 and 8. Barrera was going into theatrics each time he was hit low. He would back away and go down to his knees.
When Barrera hit Valera with a low blow the first time, the referee did nothing, even though it was clear that he'd been hit low. No point deduction was taken away. It was only until round 9 that Barrera had a point taken away for a low blow. The referee inserted himself into the fight, and negatively impacted the contest with his repeatedly point deductions.
The judges scored it 98-88, 97-90, 97-89. If you ignore the constant point deductions, it was a close fight. I don't think either guy should have had points taken away. The referee went way overboard in taking points away. It was sad to see a boxing match ruined by a referee taking points away so frequently.
—
In the opening fight on the televised portion of the card, former featherweight champion Yuriorkis Gamboa (28-2, 17 KOs) defeated former WBA 130 lb. champion Jason Sosa (20-3-4, 15 KOs) by a competitive 10 round majority decision. Sosa knocked Gamboa, 35, down in round 7. It was a situation in which Gamboa slipped, and the referee thought it was a slip due to a punch landing rather than it being a slip. The judges scored it 95-93, 96-92, and 94-94.
Gamboa lost a point in round 10 for holding.
Gamboa got the better of the action in most of the rounds. Sosa fought well in brief instances where he would load up and catch Gamboa. Other than that, Gamboa was too slick for Sosa, and he ended controlling the fight.