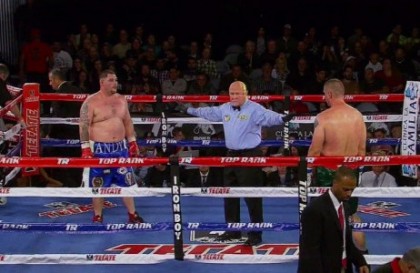 "Ruiz has the fastest hands since Ali," Hughie Fury ready to "take all these champions," Scott is "a Bentley who can outbox Ortiz"
Today's heavyweight division may be plenty muddled as far as the man on the street knowing who the world champion is goes (we could soon have as many as six champs, all of them holding a belt of some kind) – but there is no shortage of action.
On this, the week that sees the 20th anniversary of the epic upset the great Evander Holyfield scored over Mike Tyson, we have plenty of heavyweight match-ups to get our teeth into. This Saturday in Monaco, Cuban southpaw Luis Ortiz will have his first fight under the Matchroom banner, against the skilled and experienced Malik Scott. The majority of fans expect "King Kong" to score a KO win, probably quite early. But reigning British heavyweight champ Dillian Whyte – who aims to springboard into the mix at world level after his fight with Dereck Chisora – gives Scott's classy boxing skills the edge.
"I give Malik the edge in out-boxing him because Luis Ortiz has never fought anyone that is as mobile as and as good as what Malik is," Whyte told Sky Sports. "He's been boxing for so long it's second nature to him. He gets in there and moves around like a Bentley. Hopefully he wins on points."
So, not exactly a prediction to take to the bank, but a brave enough call all the same.
On December 10, it has been conformed that unbeatens Joseph Parker and Andy Ruiz Jnr will meet in Auckland to fight for the vacant WBO belt. Ruiz' promoter Bob Arum rates his heavy highly, or at least Arum rates Ruiz' hand speed incredibly – comparing it the incomparable Muhammad Ali's!
"I give my guy a helluva shot, especially now he is being trained by Abel Sanchez," Arum said in New Zealand media. "The game-plan will be to utilize the tremendous hand speed Andy has. I haven't seen a heavyweight with the hand speed of Andy since Muhammad Ali."
Wow! Even if, as we all know, hand speed alone does not win fights, this is some edge that Ruiz has. If it's true, Parker, who Arum has called "pretty slow," could have real problems next month.
As for unbeaten Hughie Fury, the still-active cousin of troubled former heavyweight king Tyson, the unbeaten 22 year-old believes he can "take them all," as in the current world champs.
"I'm ready to go," Fury told IFL TV. "I've had the awkward fights and the experience [gaining] fights, I'm not playing games any more. I'll take Wilder, I'll take Joshua – I'll take all these champions."
More mere bold talk, or has Fury got the tools to reach the top if he's given the chance? Hopefully we will find out as he does so himself.
Not too dull a scene, today's heavyweight division, is it?
And we have, potentially, big fights involving Joshua, Klitschko, Haye, Wilder, Briggs, Browne, Miller, Whyte and a few more to look forward to. We may never have another undisputed – as in truly undisputed – heavyweight ruler again (or not for a very long time), but atop the heavyweight mountain the fun and games remain.