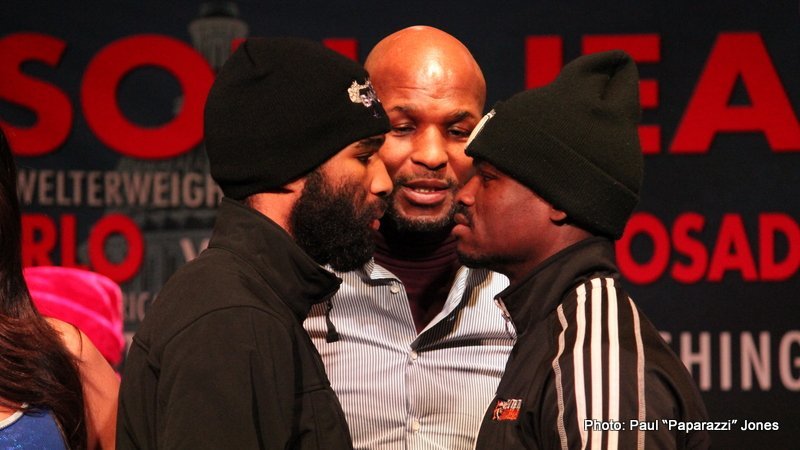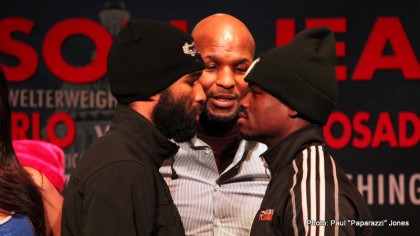 by Chris Carlso, photos © Paul "Paparazzi" Jones/ESB — Counter programming was the norm last year and this Saturday night marks the first battle in the ongoing war that turned cold between HBO a.k.a. Top Rank and Company and Golden Boy now in exclusive cahoots with Showtime who is broadcasting their event from the nation's capital city Washington D.C.
Showtime who may not lead HBO in subscribers had clearly been the better network pound for pound the last 2 years.
The two fights that top the bill are very legit with the main event between Lamont Peterson and Dierry Jean basically a 50-50 type fight on paper. Peterson comes in a slight favor according to the betting websites yet more and more fans and scribes are leaning towards the challenger Dierry Jean.
One reason would be that Jean is a heavy handed boxer with a clean record of 25-0 17 of those wins coming by way of knockout. The type of fighter that can punch with speed may not be the best style matchup for a guy in Peterson who is defending his IBF belt after being violently dispatched by Lucas "The Machine" Matthysse last May.
Add in the fact that Peterson with all the skills he posses has never turned down a chance to exchange punches no matter how big of puncher he shares the ring with. Case in point is a deadly left hook exchange with Matthysse that was the start of the ending for Lamont after moving nicely in round 1.
Which makes we wonder just how skilled on the outside defensively is Lamont Peterson. Can he bring pressure and attack the body? Check.
Does he have a good enough chin to withstand punishment the he receives in almost all his fights in the last few years? Check. Besides the Matthysse fight which by the way let's not forget he got up from all three knockdowns somehow, Lamont has stood up well to bigger punches like Victor Ortiz and Kendall Holt. So yes check.
Most importantly has he shown the ability to stick and move using hand and foot speed to control the pace of the fight? Nope, maybe early on the way up as a prospect but not when he has faced a top level fighter.
Is Dierry Jean a top level fighter at 140? The best fighter he's faced in his 25 fight career is Larnado Tyner a veteran who's giving tough fights too many high profile prospects. Now Jean had his way with Tyner but didn't really show his punching power that has been talked about as a difference maker against Peterson.
Breaking down some skills I notice when watching tape on Jean is speed and his right hand. Jean flicks his jab at times as a measuring stick other times pumping it out there to set up his favorite punch the right hand.
He throws a lot of 1-2 combos, a left uppercut or hook followed by the right hand, or sometimes choosing to lead with overhand rights.
He does however have a bad habit of reaching from a distance with that power right something Peterson will be able to pick up on timing a shorter straighter punch inside of the looping lead right hand of Jean's.
Also Jean isn't a busy fighter per say sporting a low work rate with the tendency to want to land a big punch standing in the middle of the ring with only head movements at times to dodge incoming shots.
Jean and his camp claim they will push the pace at Lamont, who has a history of starting slow, to see if any affects still linger from his brutal KO loss in his last fight. If Jean walks the talk or even if he doesn't in the opening rounds I think this fight may be the fight of the night on both networks.
If my theory that neither fighters are that accustom to or just flat out can't fight on the move that well I don't how this fight won't produce some serious fireworks.
I fully expect another slow start from Lamont based off his track record and time away from the ring. After a few rounds Peterson will begin to time Jean on the inside attacking the head and body in between Jean's wide reaching punches.
This fight will give us answers to the questions about Peterson being damaged goods and is Dierry Jean for real or has he been built up by a steady diet of stiffs.
My official prediction is Lamont Peterson by majority decision.
The fight before the main event will feature the veteran fighter Gabriel Rosado, who had his ups and downs last year, squaring off with a rising prospect attempting to become a contender Jermell Charlo. This is another good matchmaking fight with Charlo being slick on the outside and Rosado, who is sure to bring the fight to his untested combatant.
Jermell Charlo showed some promise in the last year or so after getting off to a ho-hum start to his career. A lot of his focus lately has been working on putting more on his power punches to add to his offensive skill set. After impressive victories over fellow prospects Denis Douglin and Harry Joe Yorgey some think he took a step back in his fight with Demetrius Hopkins.
Rosado was very competitive in two out of his three fights in 2013. Gab showed a ton of heart in a one sided beat down by the iron fists of Gennady Golovkin. A close loss to middleweight prospect Jleon Love was later overturned to a no contest because of a positive test for a diuretic. And to close the year Gab went toe to toe with middleweight champion Peter Quillin until being stopped some argue prematurely.
Gab has to be excited about being back at weight class he belongs in at 154 and has to like his chances after facing a good fighter with similar skills to Charlo in Love. Also gaining plenty of confidence knowing how well even in a loss he performed against yet another counterpuncher with way more power than Charlo in Quillin.
To my surprise Jermell Charlo is the betting favor to win and I noticed a few websites going as high at 2 to 1 odds. This fight won't be pretty with Rosado at some point charging in an attempt to land some fight changing punch forcing Charlo to move and hold much more that he's had to in the past.
I'll say it over and over again until I turn blue in the face. With a fight that on paper is close where one can make the argument for both fighters to get their hand raised I will for the most part by rule of thumb (whatever that means.lol) put money on the underdog.
This live dog is hovering around 1 ½ thru 2 to 1 betting odds and knowing Gabriel Rosado I'm willing to bet that he has bet money of himself after seeing those numbers.
Charlo will have the lead for how long I don't know. What I do (think) know is Gab will be able to take Charlo's best punch and at some point will get inside using that jab. And when Gab is there he will make it real tough on the young Charlo to the point where he will be hurt enough for the ref to step in or run and hold too much for the judges to give him the nod.
My official prediction is "King" Gabriel Rosado to win by close but clear decision.
Written by Chris Carlson Owner and Host of Rope A Dope Radio at www.blogtalkradio.com/ropeadoperadio
Follow Chris on Twitter @RopeADopeRadio & http://ropeadoperadio.wordpress.com/