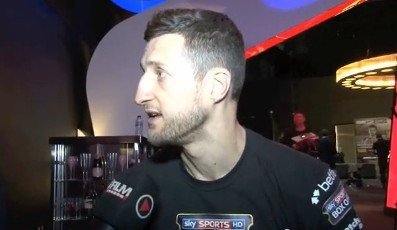 It seems Carl Froch will not be facing bitter British rival George Groves in a rematch – not in his next fight, anyway. "The Cobra," who says he has many options, told Sky Sports Ringside that a fight with Mexico's Julio Cesar Chavez Junior is "closer to being made than a Groves rematch." Froch also said that the idea of facing Chavez in Las Vegas, where he has never boxed, motivates him hugely.
Under fierce pressure from Groves to grant him a rematch – with many fans also asking for a second slice of the action that ended prematurely back in November – Froch says he is not all that interested in "going over old ground and beating George Groves again."
Froch said that should he fight twice this year, as he usually does, he will look at facing Groves and Julio Chavez Junior but, "not in that order."
Froch said the Groves rematch and it being made or not is up to his promoter Eddie Hearn. The 36-year-old did add that he likes pleasing the British public and that he may well face Groves one day, but it won't be his next fight.
As for Chavez Jr, he must first get past the tough and always dangerous Bryan Vera, who the Mexican Son of a Legend will face in a rematch of his own on March 1st. Could it be Froch-Chavez Junior after that, and how will the fans react if Groves-Chavez Jr is made? Will there be a buzz surrounding this possible match-up, or will fans moan how Froch should be facing the man who put him down in the opening round of that fantastic November 2013 slugfest?
Froch feels, no doubt correctly, that he has "nothing left to prove" after having fought just about every top super-middleweight of the past five years or so you care to mention. As such, again no doubt correctly, Froch feels he has the right to face whoever he wants to in his final ring appearances.
In my opinion, and for what it's worth, I feel Froch will fight Chavez Jr next (assuming Junior does the business against Vera this time around), then maybe have another fight on U.S soil – before finally granting Groves a return in what will be his final fight sometime in early 2015. And if I'm right, and if Froch KO's Chavez Jr, then defeats another top name and then silences Groves in a rematch, the Nottingham warrior will sit back and await his induction into The Hall of Fame.