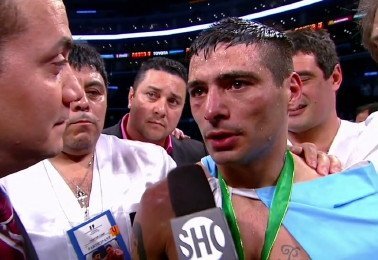 If you ask IBF light welterweight champion Lamont Peterson (31-1-1, 15 KO's) if he's worried about what he's going to be facing this Saturday night when he steps inside the ring to mix it up against the power punching Lucas Matthysse (33-2, 31 KO's), he'd probably laugh because he has absolutely no fear of Mattysse at all.
Indeed, Peterson is so confident in his ability to take Matthysse's shots and beat him that it's hard to believe in him. Peterson looks, talks and acts like a winner.
Peterson and Matthysse will face off on Saturday night in a fight televised by Showtime at the Boardwalk Hall, in Atlantic City, New Jersey, USA. The co-feature bout has an interesting match-up between IBF welterweight champion Devon Alexander and Lee Purdy in what could be the fight of the night of Purdy looks as good as he has in the past. He's going to be a big problem for Alexander because he's a smart fighter, and he's got good power and he's not the easiest guy to hit when he's focusing on his defense.
Peterson said this about Matthysse's power as quoted by RingTV "You know you're going to get hit during the fight. I don't worry about anybody's punching power until I get hit."
Peterson has already been in with a guy with arguably more power than Matthysse in Victor Ortiz. It's hard to imagine Matthysse being a bigger puncher than Ortiz because that guy can really punch, and he had Peterson down on the canvas twice in their fight three years ago in the third round.
Ortiz made it look effortless in the way he was able to hurt Peterson with his big power shots. Still, Peterson took those big shots and came back to earn a draw in the fight. Ortiz didn't like Peterson's aggression, power and his determination and it seemed like it unnerved him.
Matthysse is going to have to really bring it if he wants to win this fight because he's probably not going to be able to knock Peterson out in the 1st round like he did in his last fight against Mike Dallas Jr. last January. Peterson has a lot tougher chin than that and he could make this a nightmare fight for Matthysse before it's over.