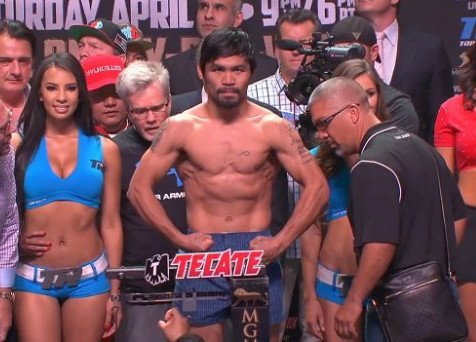 WBO welterweight champion Tim Bradley (31-0, 12 KO's) looked like a statue today at his weigh-in with Manny Pacquiao (55-5-2, 38 KO's) for their mega fight on Saturday night. I don't think I've ever seen Bradley look so good before. He came in at 145.5, and was oozing confidence, especially when two fighters came together for the traditional face off.
Pacquiao weighed 145lb and looked good as he always does. Pacquiao looked like he really worked hard for this fight. Let's hope he's ready to take the vicious shots that Bradley will be nailing him with on Saturday, because Bradley doesn't want to give up his WBO title. He's going to fight tooth and nail to keep it, and if Pacquiao doesn't find the fountain of youth before Saturday night, he's going to be out of luck.
Bradley said after the weigh-in that he plans on turning the judges into spectators on Saturday night by not letting them be a factor in the fight. He wants to knock Pacquiao out and leave no question about who the better fighter is in this their second fight together. "I've got to knock Pacquiao out. That's what I've got to do," Bradley said. "I don't it to go to the scorecards."
If Bradley is smart, he'll make sure it doesn't go to the scorecards because it's highly unlikely that he'll be given a decision over Pacquiao after what took place the last time they fought two years ago. I hate to say it, but Bradley is right about wanting to knock Pacquaio out, because it might be difficult for him to get a decision unless he score a couple of knockdowns.
For Pacquiao, a loss could spell the end of his long career, especially if he gets knocked out.
Manny Pacquiao 145 vs. Timothy Bradley 145.5
Ray Beltran 134.5 vs. Arash Usmanee 135
Khabib Allakhverdiev 139.5 vs. Jessie Vargas 140
Bryan Vasquez 130 vs. Jose Felix Jr 130
Sean Monaghan 175 vs. Joe McCreedy 173
Oscar Valdez 129 vs. Adrian Perez 130
Esquiva Falcao 161 vs. Pubilo Pena 162