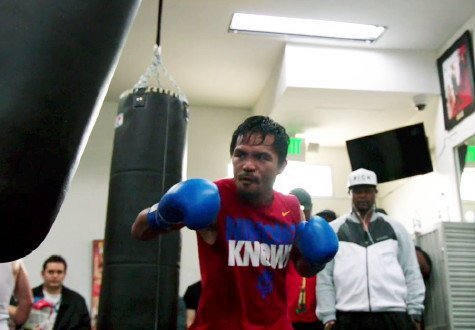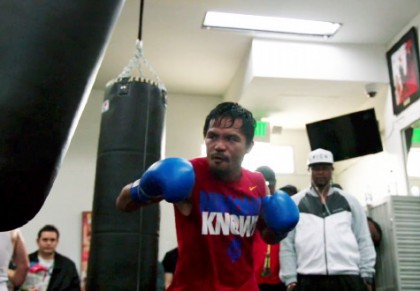 Top Rank promoter Bob Arum is dreaming high about his fight card he's putting on this Saturday night on HBO pay-per-view with Manny Pacquiao vs. Tim Bradley as the headliner bout at the MGM Grand in Las Vegas, Nevada. Arum thinks the fight will generate 1.2 million buys, which is a very high number given Bradley's lack of popularity, and given the absence of a high quality undercard to go along with the fight.
To say that Arum scrimped on the undercard is to put it lightly. Arum did the absolute minimum in terms of the undercard fights in adding the following television fights: Raymundo Beltran vs. Arash Usmanee, Bryan Vasquez vs. Jose Felix Jr and Khabib Allakhverdiev vs. Jessie Vargas. I don't have much interest in seeing any of those fights, and it's disappointing that I'll be forced to sit through them while I wait for what I consider to be the only watchable fight on the entire card between Pacquiao and Bradley. Even that fight isn't a great one because their previous fight was really boring.
Arum might as well saved money entirely and not had an undercard, because these guys aren't going to likely pull in a lot of fans to the card like a well-stocked undercard would.
"The first fight between them we did about 900,000 'buys' but we ran in to bad luck because the night of the fight the basketball series – the Eastern Conference finals – went to a seventh game with the Celtics playing the Miami Heat and that took everybody's attention," Arum told The Telegraph. "Bradley was relatively unknown as well and now Bradley is better known and he's adjusting more to the limelight. He's holding his own, he's become a personality; we've tapped in to wider media in various ways so I think we're going to go over a million – I'd say perhaps 1.2 million."
Arum's blaming the first Pacquiao-Bradley fight not bringing in huge numbers on a basketball game. I don't agree with that. I just saw it as situation of Bradley not having the fan base to bring in enough fans to add to Pacquiao's huge fan base. Pacquiao can bring in huge numbers single-handedly, but for him to bring in over 1 million buys or better, he needs a big name like Miguel Cotto or Juan Manuel Marquez. Bradley isn't a big name, and he's still not a big name. We saw that with his recent fight against Juan Manuel Marquez. That fight didn't bring in huge PPV totals. Bradley fought a boring fight by moving the entire 12 rounds in winning the only way he could win against Marquez by pecking out an ugly decision.
Arum could have helped the Pacquiao vs. Bradley 2 card if he put some good names on the card like Guillermo Rigondeux, Nonito Donaire, Julio Cesar Chavez Jr., Ruslan Provodnikov, Terence Crawford, and Mikey Garcia, but that didn't happen.
Now it's a card where fans are going to be expected to shell out huge money to see a rematch between Pacquiao and Bradley that they arguably shouldn't even have to be paying to see due to the poor judge's scores in their previous fight that led to Bradley getting a controversial win. However, given Arum's tendency to make a lot of rematches, I guess we'd be still seeing Pacquiao and Bradley fighting even if Pacquiao had knocked Bradley out cold. Just as I think we'll eventually see Brandon Rios dragged out as opponent for Pacquiao again in the future if he can pick up a tiny handful of wins.