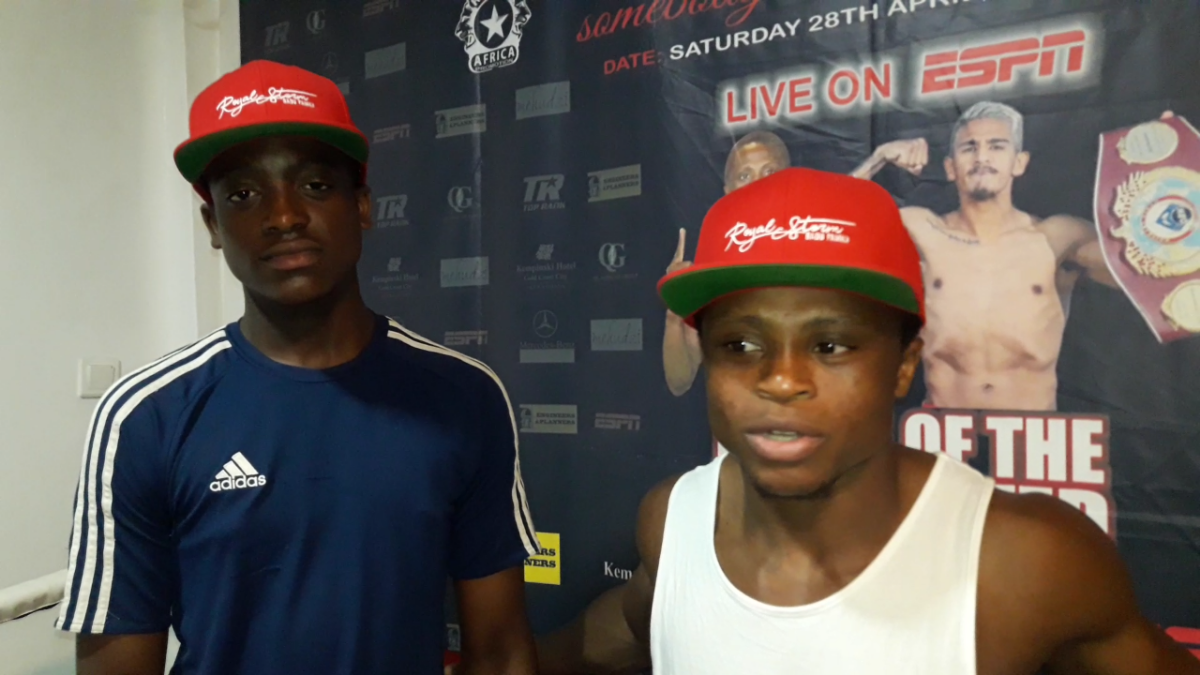 WBO junior featherweight champion, Isaac 'Royal Storm' Dogboe says he is very wary of the intentions of next opponent, Hidenori Otake of Japan who he defends the world title for the first time against on August 25 but insists he will he up in arms ready to deal with the threat.
23 year old Dogboe (19-0, 12 KOs) says he believes 37 year old Otake (31-2-3, 14 KOs) will see this as his last opportunity to win a world title and will therefore come all-out in a suicidal approach similar to the Japanese Kamikaze soldiers who infamously used aircraft loaded with explosives to deliberately crash on enemy territory during World War 2.
"I'm most definitely ready for him, the thing is the same hunger that I took into the ring against Magdaleno, that's what I carry with me all of the time. Ever since I started fighting, every time I go into the ring I make sure l leave everything inside of the ring," Isaac Dogboe told this writer at his Accra training camp.
"I don't want to come out and say that I wasn't myself or this or that. So come August 25th, that's just what is going to happen. I know that Hidenori is strong, he's a compact fighter but you will see a more polished Isaac Dogboe. It will be a classic fight," the world champion added.
That's why the Ghanaian fighter is leaving nothing to chance in his preparations for the clash against the Japanese come end of next month in Glendale, Arizona, USA, inviting his 13 year old kid brother, Josiah Dogboe to Accra from the UK to help with sparring as he did in the run-up to the win over Magdaleno.
"I think that Otake is a very good fighter, very strong and he keeps coming forward but Isaac has the tools and power punch to take care of him. I know he will come out like a Kamikaze warrior, he will keep coming forward like Cesar Juarez but definitely Isaac is going to knock him out," said Josiah who arrived in Ghana last Wednesday for only the third time since he was born in England.
This is not lost on their father and trainer, Paul Dogboe who affirmed their awareness of what this fight means to Otake whose only previous fight outside his country was for a failed world title bid to Scott Quigg in the UK in 2014.
"Remember Hidenori is 37 years old so definitely for all you know this is his last shot, his last attempt so I'm thinking he is coming with every missile on this earth because this is his last time fighting for a world title. That's why Isaac's junior brother said we know he is going to come like a Kamikaze warrior," Dogboe Snr said.
And no one is more prepared for the war they expect from Otake than the man who will do battle against the Japanese in the ring come fight night.
"My fans know what time it is, when the war drums are beating you know the Royal Storm, Team Dogboe we are about to go to war. In Arizona, you guys are going to be hearing from the corner, from the crowd, Neho Isaac, Neho which means the knockout is coming," Dogboe said.
"On 25th August we will go out there to Glendale, Arizona to light up the place and knock out Hidenori Juarez. We call him that because we think he fights like Cesar Juarez, he just comes all out, throws from every angle. He's like a little bit of polished Juarez," Dogboe explained.
He added full of confidence: "So Hidenori when he's thinking in his head that he won't go down with his Kamikaze kind of mentality, we will make sure we take him out."