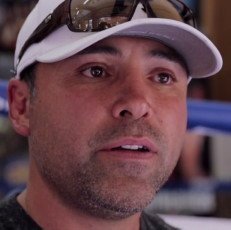 Oscar de la Hoya claims 'The One' has become the richest fight in history because people want to see Floyd Mayweather finally lose.
De La Hoya's Golden Boy Promotions have put together Saturday's £150 million Las Vegas scrap when Mayweather challenges WBA super and WBC light-middleweight champion Saul 'Canelo' Alvarez.
The financial records set when De la Hoya was outpointed by Mayweather in 2007 will be shattered in the fight being screened live in the UK on BoxNation (Sky Ch. 437/Virgin Ch. 546).
De la Hoya, the GBP President has never been close to Mayweather despite his organisation's involvement in making him the world's highest earning sportsman in 2012 and almost certainly this year.
Mayweather, 36, has won all 44 professional contests in a professional career spanning almost 17 years and there are few signs of him being in decline.
But, Alvarez is the man Oscar is rooting this weekend for and the six-weight world champion said: "I know why the fight is catching fire.
"People have hope and people strongly feel that Mayweather is going to get beat.
"You have a young guy in Saul who is like a seasoned veteran. He knows what he's doing. He's a fighter that has a game plan that is in the best shape of his life."
Alvarez, 23, was just 16-year-old when De la Hoya was defeated by Mayweather in May 2007 but remembers watching at home in Guadalajara watching.
The Mexican was rooting for his idol, but now finds it hard to believe that Oscar is fighting his corner against Mayweather.
Alvarez, unbeaten in 43 fights added: "It's an honour to hear those comments from Oscar that I'm going to win."
Mayweather v Alvarez is live and exclusive on BoxNation (Sky Ch. 437/Virgin Ch. 546) this Saturday night. Join at www.boxnation.com
About BoxNation
BoxNation, the Channel of Champions and proud partner of Rainham Steel, is the UK's first dedicated subscription boxing channel. For £10* a month and no minimum term customers can enjoy great value live and exclusive fights, classic fight footage, magazine shows and interviews with current and former fighters.
BoxNation is proud to support Fight for Peace, a charity that uses boxing and martial arts combined with education and personal development to realise the potential of young people in communities that suffer from crime and violence. Buy LUTA (www.luta.co.uk) clothing and support Fight for Peace.
Previous highlights have included Khan vs Diaz, Mayweather vs Guerrero and Haye vs Chisora.
The channel is available on Sky (ch 437), Virgin (ch 546), online at Livesport.tv and via iPhone, iPad or Android.
BoxNation is also available to commercial premises (inc. pubs, clubs and casino's) in the UK and Ireland, for more information on a commercial subscription please call 0844 842 7700
For more information visit www.boxnation.com
*Plus £10 one off registration fee for Sky TV and new Livesport.tv customers.