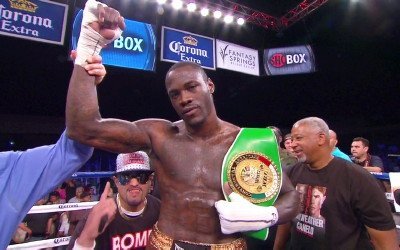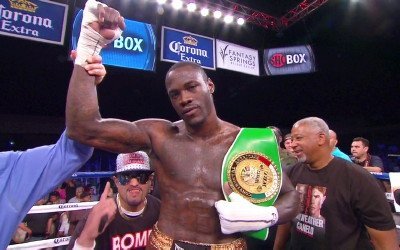 Chris Arreola (36-3-0) was meant to be a boxer. He is lacking nothing, but has had a somewhat rough spell.
After his loss to Vitali Klitschko in 2009, Arreola went on to secure a win against Brain Minto, and then once again suffer a loss against Tomasz Adamek in 2010. Since then, Arreola has won 8 and lost one fight. His last loss was to Bermane Stiverne, the man who is now trying to get a chance at beating Vitali Klitschko.
Arreola's recent win was a one round annihilation of Seth Mitchell, leaving Arreola looking for his next big fight. Chris has been chasing another big title fight for all these years, but has somehow been unable to find one.
Now, another heavyweight has been making huge waves in the heavyweight division, and he might just be the perfect fight for Arreola to bounce back closer to the top.
Deontay Wilder (29-0-0) has a perfect record in every sense of the word. Not only is he undefeated, but his knockout rate is a solid and impressive 100%. The longest that any of his fights have ever lasted is 4 rounds, and that is a statement to be wary of.
Both Arreola and Wilder are climbing the ranks, hoping to take over either of the Klitschko brother's positions. Both are ready and willing to fight, and it seems that at least one of them is game.
"@oscardelahoya @goldenboyboxing @shosports MAKE IT HAPPEN!!!!! Aerrola scared of me tho he's already trying to run," was Wilder's recent Tweet post, aimed at the Golden Boy himself.
This was a response to a Tweet that Oscar has posted a few hour prior: "Areola vs @BronzeBomber anyone? @SHOsports @GoldenBoyBoxing"
Both men need this fight, and both would undoubtedly sign to face each other simply based on the fact that they are each other's fast-track road to the top.
As far as the fans go, they would all be winner in watching that fight. Arreola has heart, determination and of course a certain degree of ring experience. But has he ever been hit by someone as strong as Wilder? Can he take the physical punishment that Wilder would bring with him into the ring?
It would be a great fight, with sparks flying from round 1. No matter what, one of the two boxers would end that fight on the canvas, and for many boxing fans, that is a selling point on its own.
Wilder is taller, stronger, and younger. Arreola is more experienced and also has a high knockout record, indicating that he is just as dangerous in the ring as Wilder is.
If Oscar wants it, and Wilder wants it, I assume its just a matter of time before Arreola joins the fun!
More @ http://cgboxing.blogspot.com/
https://www.facebook.com/VitaliFightPress