Share the post "Patrick Nielsen dominates Majewski, P4P#1 Cecilia Braekhus stops Castillo"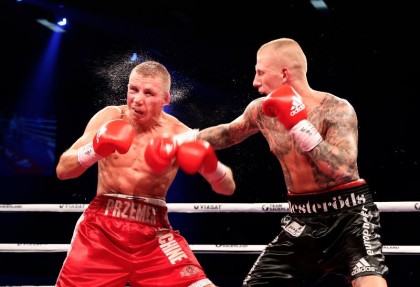 Photos: Wende – Patrick Nielsen (20-0, 9 KOs) defended his WBA Intercontinental Middleweight Title and added the WBO Intercontinental belt to his collection by defeating Patrick Majewski (21-2, 13 KOs) in Frederikshavn, Denmark on Saturday night. The 22-year-old knocked down the "Machine" in the fifth with a left to the chin. The judges scored the fight 119-108, 119-108 and 118-109. "This was the best performance of Patrick´s young career," promoter Nisse Sauerland said. "He dominated Majewski and showed his superior boxing skills. The future certainly is bright for Patrick."
Said Nielsen: "I am very happy with my performance. Majewski was a tough opponent, but my coach Joey Gamache had prepared a very good plan. I am very happy about the result."
Said Gamache: "It´s great to work with Patrick, he got all the tools to be successful. He did what he was supposed to do and put our plan into action."
In the Norwegian main event of the evening, WBA, WBO & WBC Female Welterweight Champion Cecilia Braekhus (23-0, 7 KOs) confirmed her pound-for-pound number one rating with an impressive ninth-round TKO victory over previously unbeaten Oxandia Castillo (12-1, 9 KO). The WBO Female Light Middleweight Champion started out aggressively, but Braekhus took control early, cleverly outboxing her 18-year-old opponent. Soon she stamped her authority on the battle and picked Castillo apart with one-two punches – much to the delight of the many Norwegian fans in attendance. In the ninth, the referee eventually stepped in to save Castillo from further punishment.
"She should not have taken my belts after the press conference," Braekhus said. "They are mine and mine alone. But let me add one thing: Oxandia is extremely talented and I am sure that she will be the pound-for-pound number one in a few years when I am retired. It was an extremely tough fight, she was very good, but I am happy I defeated her."
Said Castillo: "I want to congratulate Cecilia, she is the best in the world and she deserved to win tonight."
Said Sauerland: "Cecilia is the pound-for-pound number one and she once again proved that tonight."
Share the post "Patrick Nielsen dominates Majewski, P4P#1 Cecilia Braekhus stops Castillo"