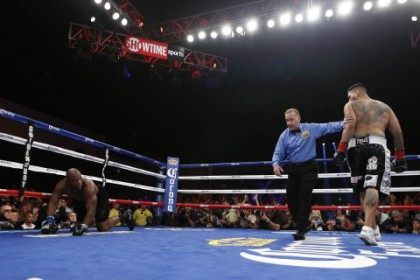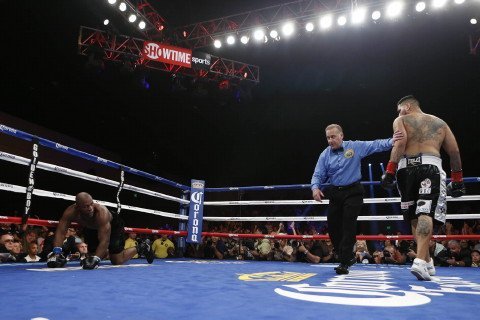 (Photo credit: Esther Lin/Showtime) Chris Arreola came into last night's fight with Seth Mitchell wearing a robe that had written on it "you don't play boxing." A clear dig at Mitchell's attempts to transfer his physical skills from the football pitch to the boxing ring, Arreola's statement was borne out – in quite devastating style.
Looking as focused as can be, Arreola wasted no time testing Mitchell's chin and pretty soon the writing was on the wall. Mitchell ate plenty of leather in a short period of time and he was all over the place, hurt bad and clumsily trying to hold on. Arreola, though, would not be denied.
"Easy work," Arreola bellowed after the fight that pretty much delivered as advertised (not too many people were predicting a Mitchell win) and in truth it was easy for "The Nightmare" who is now well an truly back on Elm Street. But Arreola's next fight may not prove such an easy task.
Post-fight, Arreola called out Bermane Stiverne, the man who busted his nose, knocked him down and out-pointed him earlier this year. Stating how he doesn't think reigning WBC heavyweight king Vitali Klitschko will come back, Arreola urged he and Stiverne to lock horns for a second time, with the green belt on the line. Not a bad idea at all, especially if "Dr. Iron Fist" has lost interest in boxing again. But there has also been talk of how last night's winner would go on to meet lethal-hitting KO monster Deontay Wilder. How big and exciting a fight could an Arreola-Wilder clash be?
Arreola, newly motivated and having put the work in in Phoenix, is back in the thick of things and whoever he fights next the fans will tune in. Still the most exciting, colourful and unpredictable big guy out there, the 32-year-old with the 36-3(31) record made a statement last night. Should he get revenge over Stiverne next or burst the bubble of the still untested Wilder, Arreola will make an even bigger one.
And, perhaps to send a message to those critics who say Arreola isn't in shape, the Mexican-American warrior found the time to pump out a few press-ups right after ruining Mitchell. If he can do that after his next fight, the headlines will be massive!