On November 17, 2012, at the LA Sports Arena, Nicaragua's Román Gonzalez defended his WBA 108lb title against Mexico's Juan Francisco Estrada, and engaged him in one of the most aesthetically pleasing and technically sound battles anyone is likely to witness.
Estrada boxed extremely well for extended portions of the contest; he circled smoothly around the ring, dug repeatedly to the body, and had success dropping an accurate one-two onto his opponent's head. For his part, "Chcolatito" Gonzalez remained unfazed and responded with constant, educated pressure to work his way inside.
Once there, he launched extended combinations that swirled around and through his opponent's guard, and then darted out before Estrada could retaliate.
It was the type of fight where one fighter would control the first two minutes of a round before his opponent would storm back in the final minute, and the type of fight where half a dozen rounds were won by wafer-thin margins.
In the end, Gonzalez won what I thought was a deserved unanimous decision, but by scores (116-112 x2, and a ridiculous 118-110) that didn't necessarily reflect how bitterly contested and close this fight really was.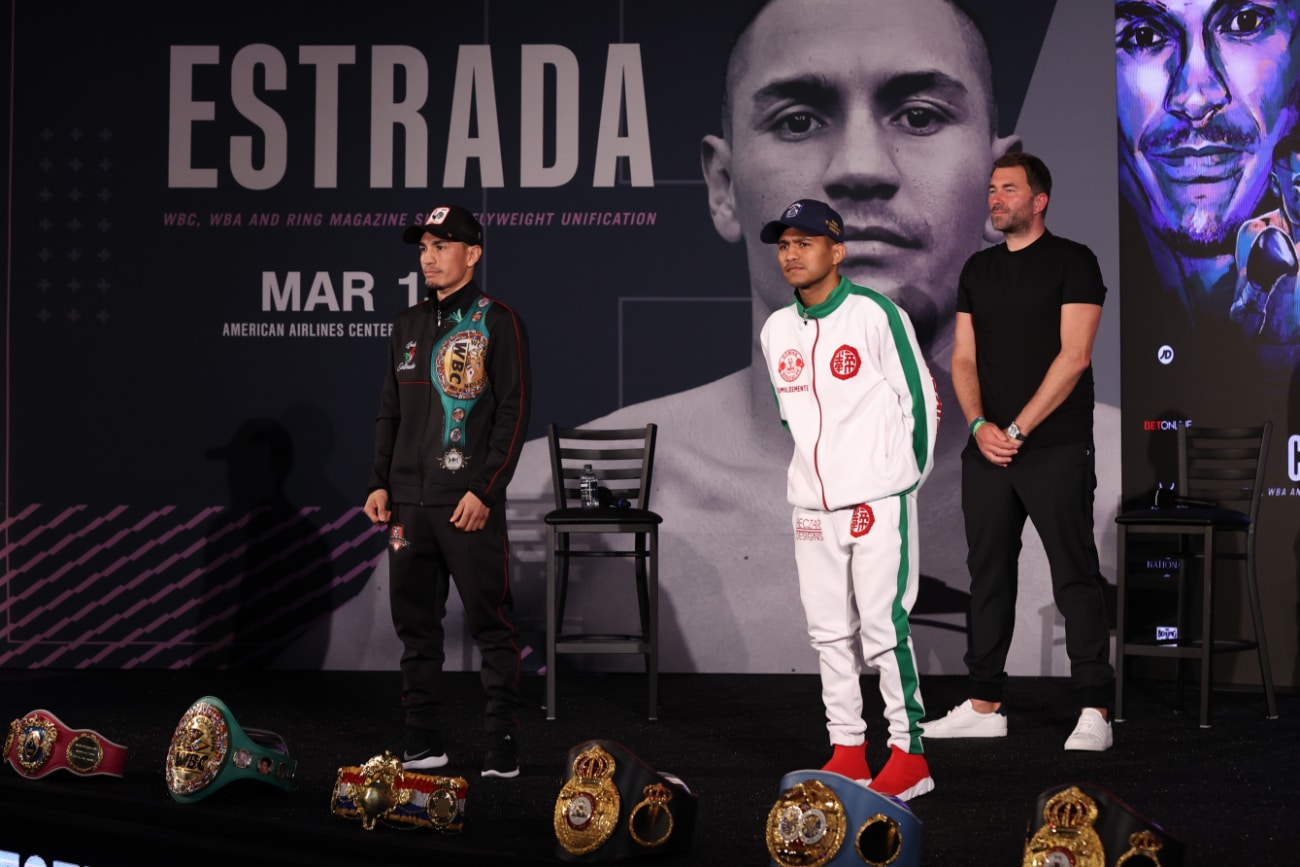 As soon as the decision was announced, hardcore fans began to anticipate the time when these two would step into a ring and run this back, and speculate about how a rematch would unfold.
The two followed similar trajectories in the years that followed, both winning world titles at flyweight within a couple of years of their initial meeting, and then crafting separate five-defense title reigns against capable opposition.
With every victory, the anticipation of a potential rematch increased, especially after Gonzalez began to appear on HBO Championship Boxing.
Even after Estrada took time off to undergo hand surgery, and after Román struggled to overcome then WBC 115lb kingpin Carlos Cuadras to become a four division champion, it was still the fight hardcore fans wanted to see…
…At least until Gonzalez met an awkward power-punching southpaw from Thailand who fought under the name Srisaket Sor Rungvisai.
In their first meeting, Gonzalez suffered a first round knockdown and cuts over both eyes, but fought back effectively and managed to outland Srisaket over the course of twelve rounds.
Still, the Thai's harder punchers left a greater imprint upon the minds of the judges, and Gonzalez suffered the first loss of his career as a result.
When they met a second time a few months later, Srisaket shocked pretty much everyone by dominating the fight from the start; he then punctuated his career best performance by bludgeoning the Nicaraguan to the mat with a right hook in the fourth, and then obliterated him with a short left hand after the latter scraped himself off the canvas.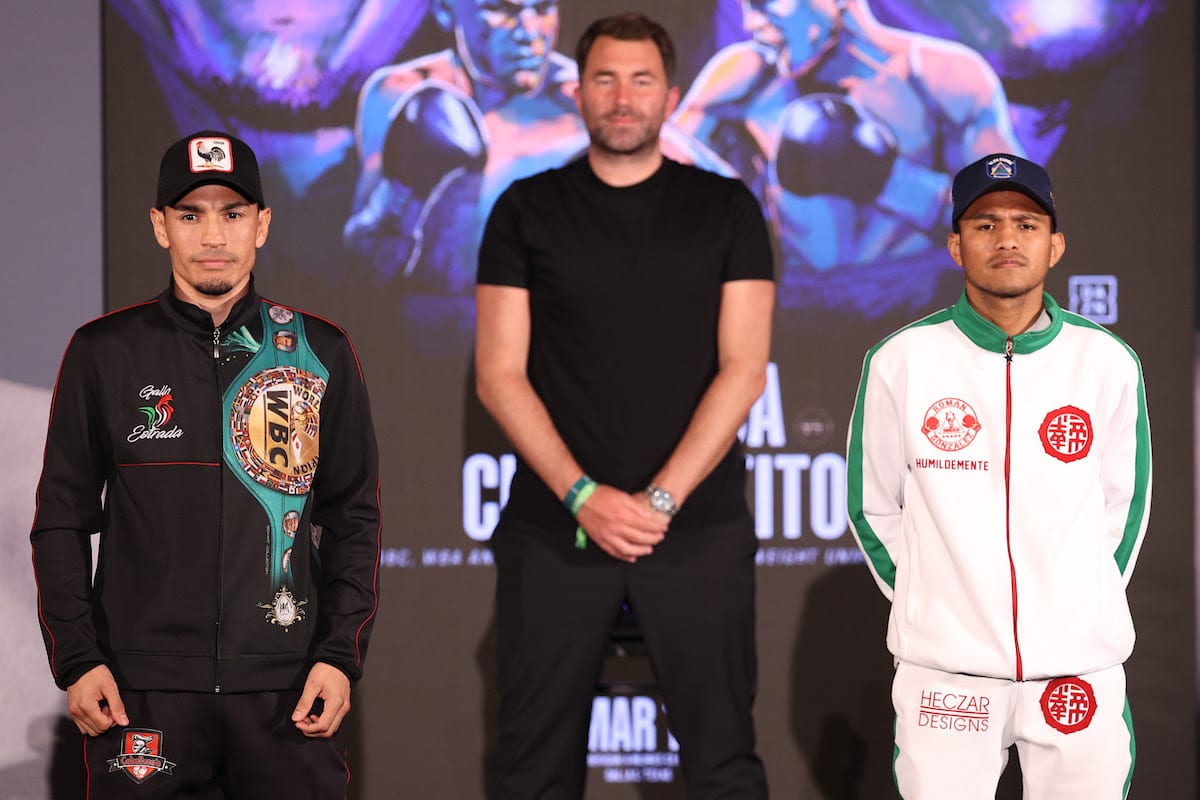 At that point, Gonzalez-Estrada II ceased to be the most anticipated fight in the game, and most observers had little hope about the rematch taking place at all. Instead, they turned their attention away from Gonzalez and to Estrada as the latter engaged in and split a couple of terrific fights with Sor Rungvisai for the lineal and WBC 115lb championship. After defeating Srisaket via a hard fought decision in April 2019, Juan Francisco expressed a desire to completely unify the division, but a really high profile unification fight just didn't seem available to him.
And that was the point when Román Gonzalez re-emerged as a force at super-flyweight.
In February 2020, Gonzalez dismantled the larger, undefeated Khalid Yafai to win the latter's WBA 115lb title; and in October he turned in a lopsided victory over Israel Gonzalez to register his first successful defense.
The victory over his namesake occurred on the undercard of the rematch between Estrada and Cuadras; after Estrada was forced to overcome a knockdown and a slow start in order to grind down and stop his countryman, observers once again began to speculate on how Chocolatito-Estrada II would unfold.
Now, almost a decade after their first fight, we'll get the chance to find out.
In terms of predicting the outcome, I'm leaning toward the Mexican, because I suspect that Estrada (41-3, 28KO's) has more room for error than Román (50-2, 41 KO's) has at this advanced stage of his career. In order for Gonzalez to win, he'll have to ensure that he jumps out to an early lead while being careful enough to ensure that he isn't caught with anything big early in the fight.
Then, he'll have to maintain his intensity throughout the second half of the contest-when Estrada normally gets into his groove-and avoid the late rounds fade that he suffered against Cuadras in their 2016 meeting.
I think it's more likely that the larger, younger Estrada will find a way to assume control as the fight progresses and that an older Gonzalez will find it more difficult to deal with El Gallo's offense than he did when they met back in 2012. I'd be foolish to rule out the Nicaraguan's chances completely, but in my mind, there are just too many ways in which this fight can go sideways for me to confidently pick him to win this evening.
That said, I do think Román has enough left to make this fight very competitive and entertaining for as long as it lasts. Those seemingly endless combinations of punches don't come with quite the same amount of speed and power as they once did, but they're still capable of doing damage-and Gonzalez is sure to throw them at Estrada whenever he has the chance.
Estrada has always been the kind of fighter to fight fire with fire, so when that happens he'll be certain to stand his ground and lash out at Chocolatito with those signature one-twos. That's what happened styles in the first fight, and it made for a thrilling spectacle. I have little doubt in my mind that their styles will blend together just as well when they meet tonight at Dallas's American Airlines Center.
So, like most boxing fans, I'm looking forward to this evening, when Juan Francisco Estrada and Román Gonzalez meet once again in a rematch that was probably a little later than most of us expected…
But, given the anticipation for this fight, I think we can all agree that this is a case where the phrase "better late than never" applies.
Just how much better remains to be seen.
Author's pick: Estrada UD Gonzalez.
****
The chief supporting bout features another rematch, between current undisputed women's world welterweight champion Jessica McCaskill (9-2, 3KO's) and the former champion, Cecilia Braekhus (36-1, 9KO's).
When they met in August of last year, McCaskill was able to pressure Braekhus effectively for the first few rounds, preventing the more technically sound Norwegian from establishing her jab and right hand.
During the second half, Braekhus had more success boxing at range, and appeared to have done enough to have recorded what would have been a record breaking twenty sixth successful defense of her world championship. Two of the judges disagreed, however, bringing an end to Braekhus's undefeated record in addition to her championship reign.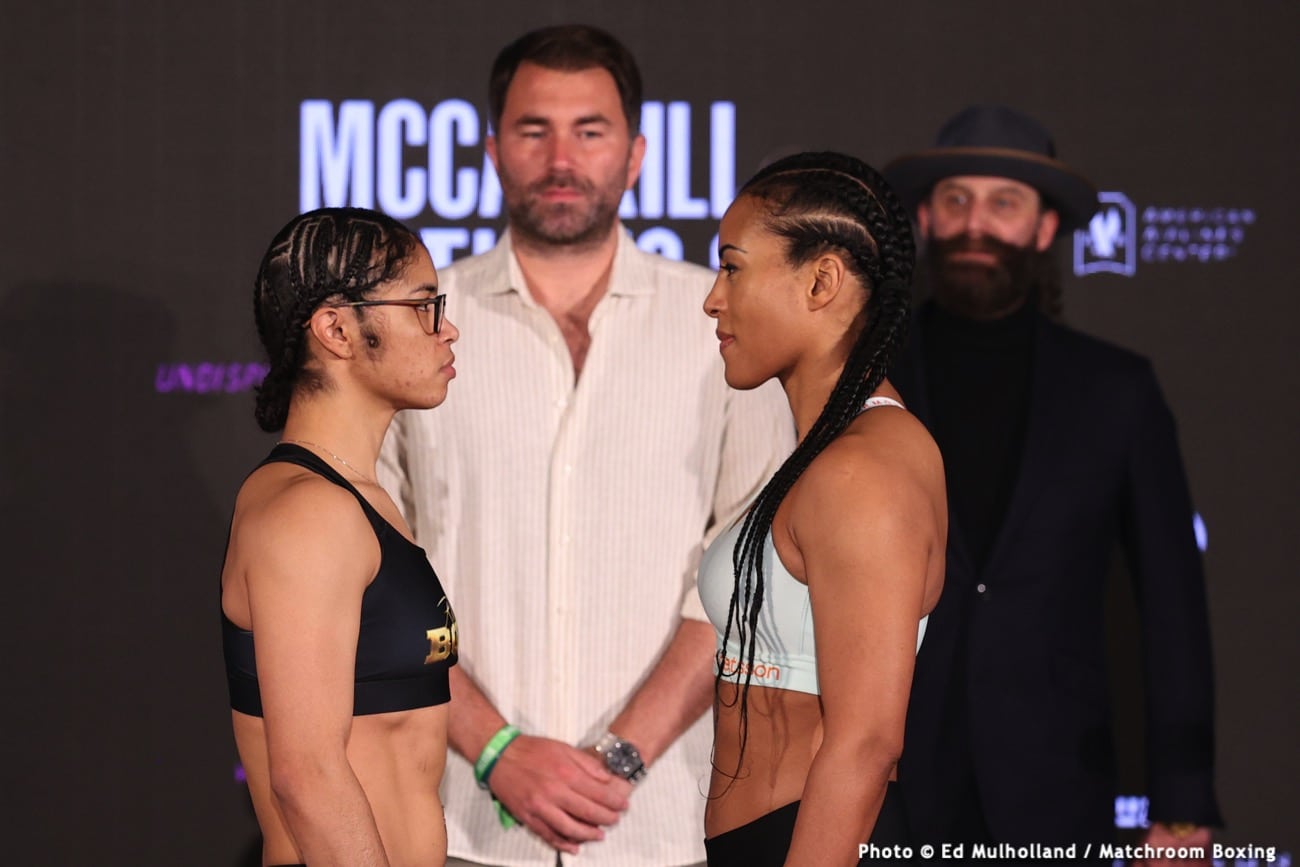 Braekhus is in the autumn of her career, and facing a fighter who seems to be improving over the course of each fight. Still, the First Lady has been able to improve on her results in previous matches and the manner in which she appeared to control McCaskill in the second half indicates that she might have figured out her style, at least to some extent.
I think Breakhus gets started a little earlier and ekes out a close decision that will allow her to do something that her fellow record holder couldn't do-regain the championship she once held for over a decade.
Author's Pick: Braekhus SD McCaskill
Other fights of interest this evening include the undefeated Hiroto Kiyoguchi defending the WBA (Super) World 108lb title against 4'9″ Axel Aragon, former super middleweight titleholder David Benavidez fighting once beaten Ronald Ellis on the main event of a PBC card, with Mexico's exciting Isaac Cruz Gonzalez facing undefeated Argentine Juan Matias Romero on its undercard.
On the whole, a pretty entertaining slate of contests. I hope everyone enjoys watching them as much as I will.