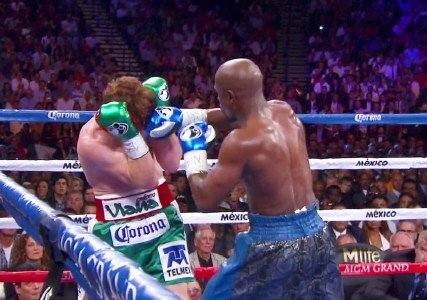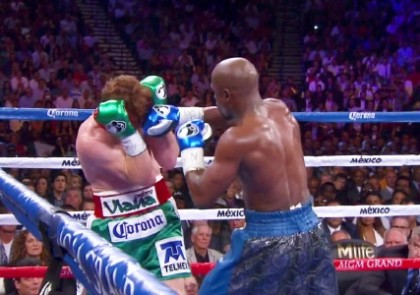 Coming up with the title that I have used for this article wasn't easy, simply because I wanted to get my point across without offending any fighter that I may mention as I continue. Unfortunately I don't think that I succeeded at doing that, but phrasing it the way I did makes my theme as direct as I would like it to be.
As soon as Mayweather Jr. effortlessly scratched Canelo off the list of the fighters that could possibly beat Floyd, boxing press as well as the fans asked the next logical question: who should be next?
What had happened this past Saturday night was not a competitive boxing match; it was a boxing performance symphony. For the boxing fans and enthusiasts that prefer a technical fighter to a brawler, witnessed a work of art that is Mayweather Jr. The angles of the punches, the defense, and the timing, were delivered with such finesse, that many knowledgeable people calling it his best performance yet.
After the fight, there was of course talk of Mayweather Jr. picking an easy opponent. It often came from the very same people who were screaming and parading in support of Canelo a few hours earlier.
Does this mean that Canelo was the perfect opponent before, but became an undeserving one after the fight? Give me a break those of you who are a part of such thinking; and there are many of you.
First of all let me make it clear that I am not a Mayweather Jr. fanatic, as I think it's important for me to get this fact across before going any further.
A thought came to me as a few reporters were talking about Floyd's future at the post fight press conference. They were discussing Golovkin, Khan, Garcia, Bradley, Pacquiao, and a few other possible names that Mayweather Jr. could face next. They were trying to figure out which one of these will finally break the code, and hand Floyd his first loss.
To be perfectly honest, at this particular point in time, based on Mayweather's last few performances, his opponent simply becomes a name on paper that Mayweather Jr. will add as a 'W' to his resume.
Am I being too quick to say that? Does GGG really have a high chance of knocking Floyd out? Only if he lands a clean shot, which is as close to improbable as it gets.
They are all tremendous fighters, champions, and I enjoy seeing all of them fight. They all have amazing skills, and hearts that never let the fire burn out. I respect every single fighter that crosses the ropes, and I give them all a fair chance.
Except when it comes to Maywether Jr., as he has proved that there are echelons in boxing, and he is all alone in his own.
Some have criticized me for thinking so, pointing to his competition. Many have made it clear that Robert Guerrero, despite being a champion at the time, should have been a piece of cake for Mayweather Jr.
So what's the argument here? The entire fight looked like a warm-up sparring session for Mayweather Jr. It turned out the way it was supposed to. But is that because Guerrero was so bad, or because Mayweather Jr. is a virtuoso when it comes to just about everything when it comes to his job?
Robert fought his way to where he was, like it or not. So did the previously unbeaten Saul Alvarez, who looked like an amateur in the ring with Mayweather Jr.
There is certainly a list of fighter that Floyd can fight. Some he should fight more than others. In the end, when it comes to odds and predictions, aside from the fact that it's exceptionally entertaining to see Floyd do what he does in the ring, the potential of an upset is inexistent.
His fights are fun, but the mystery and the potential of something new happening has dried out.
So who should Mayweather Jr. fight next?
If he fights Amir Khan, especially in the U.K., it would be a colossal promotion, with fans skirmishing for tickets at any price. It would be interesting to see Floyd fight outside of his home, the MGM Grand. Amir Khan is too inexperienced, too slow, and makes way too many mistakes. Mayweather easily wins.
If he fights Golovkin, the hypothesized possibility of a knockdown or even a knockout of Mayweather Jr. would glue the fans to their TV screens. Golovkin is young and extremely strong, offering no mercy in the ring. Still, he is way too slow and throws way too wide, leaving himself open for a variety of Mayweather Jr. deliveries. Mayweather Jr. wins with minimal effort.
If he fights Danny Garcia, the kid that keep proving himself over and over, and has finally earned the respect of all, well let's just say that they don't feed the sheep to the wolves too early. If experience means anything in the ring, Garcia should avoid Floyd like the plague.
Mayweather Jr. could technically face Bradley if he is able to get past Marquez. Unfortunately for the both of them, I don't see this fight selling well. Based on Bradley's style, he will leave himself open way too much, ending up losing a very wide decision. He is best against people like Provodnikov and Pacquaio. He will not know where to throw his punches against Floyd, and would constantly be tagged with counters. Sorry, a very laid back night Mayweather Jr.
Pacquiao? I am a true fan, but only the blind would be unable to tell that Manny would end up suffering the same fate as Canelo did against Mayweather Jr. Volume punchers, as powerful, fast, and as full of energy as they can get, are the easiest pray for Floyd. Mayweather's defense and counter punching would probably upset and annoy Pacquiao fans in the early rounds. When fighters have Floyd in the corner or against the ropes unloading on him, most of the time, those punches turn out to be a waste. Floyd's Philly shoulder roll is too damn effective; it's flawless. Sorry fellas, as much as I hate saying this, another typical night for Floyd.
Twist it, turn it, rearrange it; all the top competition would end up with another 'L' on their records if they fought the Mayweather Jr. of this past weekend. For Floyd this is not only a blessing, but is a curse as well.
More @: https://www.facebook.com/VitaliFightPress?ref=hl