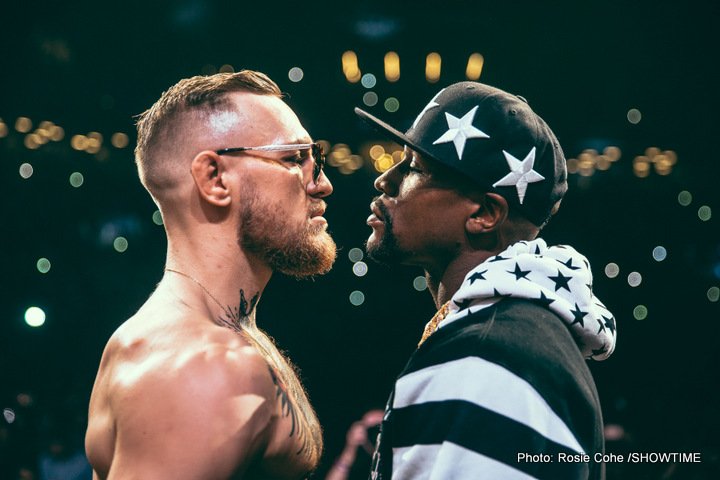 It has today been announced how the big, heavily hyped "Super Fight" between Floyd Mayweather and Conor McGregor will be televised in the UK by Sky Sports Box Office. Sky defeated BT Sports, Box Nation and ITV to bag the exclusive rights to the August 26 bout in Las Vegas and big numbers are expected to be generated despite the fight being set to take place at around 5AM UK time.
The price UK armchair fans will have to pay is £19.95, which is slightly more than the usual £16.95 Sky Sports pay-per-view fights go for. This sum is of course significantly lower than the $90 ($100 in high definition) US fight fans will have to shell out next month.
UK boxing promoter Eddie Hearn stated before Sky Sports had proven successful in their bid for the boxing-MMA crossover fight, how he felt the fight is capable of pulling in the 1 million UK fans the Mayweather-Manny Pacquiao "Fight of The Century" attracted on Sky Sports Box Office back in May of 2015. Now we will see.
Is there really that much global interest in this fight though? Reports tell us how tickets for the event at The T-Mobile in Vegas remain unsold, and with UK fight fans having to stay up to such an ungodly hour, will the numbers reach the heights Hearn and Sky anticipate?
The under-card and its quality could prove a big factor, as with some potentially good/great fights in line to give added value for money to the show, more fans may be pulled in. The full under-card is set to be announced, more than likely later on this week.
Right now, however, "Money" Mayweather's right-hand man Leonard Ellerbe is predicting huge success for the fight over in America, with the live gate.
"We're very excited and very happy with ticket sales so far," Ellerbe said as quoted by The Telegraph. "We're well on our way to smashing our own record which transcended the sport."
Fans are not overly concerned with the box office success of this fight, though – they merely want to see a good, competitive fight. For the money being asked of them this is the least fight fans deserve.