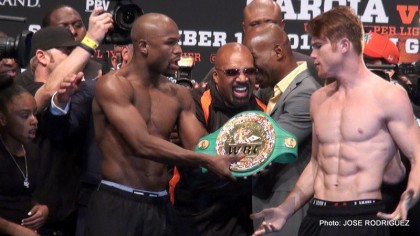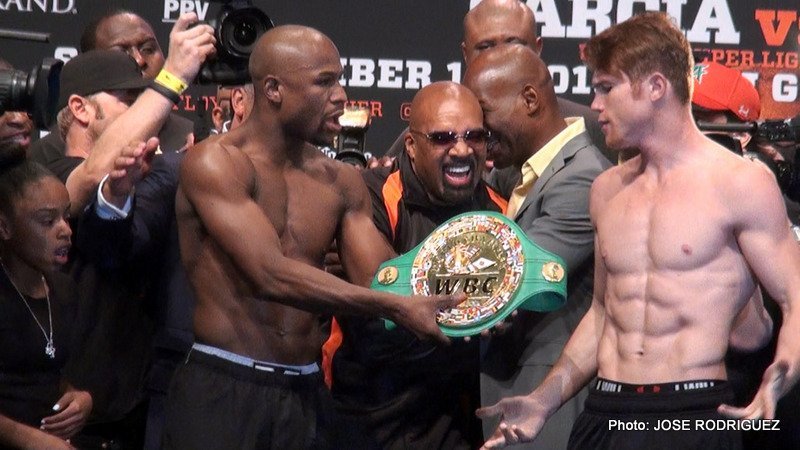 Largest gate revenue generated in the history of the sport? Counted and in the books! Best combined record for a super mega-fight between two Champions in this era (86-0-1)? By a landslide…..Easy work! Highest Pay-Per-View buy rate in the history of the sport? Certainly in the zone……final tally pending. No matter how we dice up this epic affair, on paper, it appears the world of Boxing is well on track to see something truly monumental by the end of the night. In an effort to analyze this colossal event, we take a closer look at not only "Keys to Victory", "Four to Explore", and a "Final Prediction"; but also a deeper look "Inside the Numbers", so that we can finally put a few commonly spoken myths to bed:
FLOYD MAYWEATHER – KEYS TO VICTORY
Floyd Mayweather was never the fastest, the biggest, or the strongest. He was simply the smartest! That's his true claim to fame! Of all "Keys to Victory" eligible, that's the one attribute Mayweather will need most tonight, as no opponent in recent times, (if ever), presented the level of danger found in Saul "Canelo" Alvarez. Mayweather has been the best chess master Boxing has seen, arguably in history. Trouble is, aside from gritty Puerto Rican veteran Miguel Cotto, few have required him to shift gears more than once on any given night over the past 10 years. The dedicated body attack, the subtle adjustments, the size differential, and his ability to be a quick study makes him Mayweather's stiffest test to date. Staunch supporters can talk strategy all day long. If Mayweather can't keep the young lion off step and second-guessing, nothing else will matter in the end.
SAUL ALVAREZ – KEYS TO VICTORY
For starters, Alvarez will need to come out with a very measured aggression to establish himself early. Neither fighter has ever loss back to back rounds in their career. So the one that takes a lead early could very well keep the lead late. Canelo does have an "eraser", decoyed as a punchers chance; but he can't rely on one shot! Instead, he will need to try to land several. By design, Canelo will need to keep Mayweather on his back foot, touching him anywhere uncovered and above the beltline! The shoulder…..the elbow…..the forearm, and beyond! He will need to put as much leather on Mayweather as possible, sidestepping with quick reflexes to avoid return fire. The body will be key. Cotto did considerable damage which took a toll, but he didn't possess the strategically placed combinations that Canelo uses. If Canelo can punish Floyd enough with combinations to the body early, the young Mexican warrior could very well set himself up to yell "Timber" late!
FOUR TO EXPLORE (CRITICAL GAME CHANGERS TO WATCH OUT FOR)
CANELO'S DESTINY – When Canelo was scheduled to face James Kirkland, Kirkland derailed their bout by landing in jail. He was later scheduled to face Paul Williams. Paul Williams unfortunately ended up having a career ending motorcycle accident that paralyzed him, canceling that bout. Miguel Cotto became the next target. Miguel Cotto instead gets destroyed by Austin Trout. Trout was a good litmus test, but nowhere near tested in the same breath as Cotto or Williams. Even if Cotto had gotten beyond the raw James Kirkland, many suspect the style of either Williams or Cotto could have been enough to halt the Canelo train! Instead, we watched fate breathe life into a script Hollywood's best producer couldn't pen, landing him in the ring with Mayweather. Did this all happen for a reason?
A.G.E. – Is it a number? Or a term symbolical for "A GREATER (LEVEL OF) EXPERIENCE"? For Mayweather, his age (36) envelopes a level of experience that Canelo clearly doesn't possess. But what Canelo's age (23) does offer is a childlike ignorance that often amounts to fearless bliss on the world stage. Rarely in Boxing do we see an athlete elevate himself to a level of greatness that equates to success found in their youth. Can today's Floyd Mayweather join Bernard Hopkins as athletes able to gain a spot in line for that proverbial "fountain of youth'? Or will he instead fall to a competitor who remains embodied within the invincibility of his own (youth)?
HISTORY IN THE MAKING – Every great fighter in history has had a nemesis that required him to clarify his dominance in a rematch after sketchy results in a first encounter. "Sugar" Ray Leonard had Duran, Ali had Frazier, Pacquiao had Marquez, and the list goes on. Mayweather critics have downplayed his greatness under the logic that he has yet to face anyone with paralleled greatness required to repeat this historical trend. Mayweather supporters have echoed the sentiment that his greatness only makes it seem that way, making it "look" easy. Does Canelo possess the attributes to bring this parallel out?
HOT OR COOL?: In the past, Canelo has seemed very poised and under control, despite the magnitude of any given fight. The irony here is that despite the past, tonight, he will step on to a stage unlike anything he has ever witnessed before. His victory over Trout took place in front of 40,000 screaming fans in San Antonio. But the sheer magnitude of a headlining a PPV card promoted in 11 cities around the globe, culminating in a weigh-in that required a full ring walk presser proves this is unlike anything he has taken part in before. Tonight, even for two men known to be cool, without question, the temperature will rise….and potentially very early. Can Canelo remain that cool in the lions den of adversity?
INSIDE THE NUMBERS
DOES CANELO HAVE STAMINA PROBLEMS?: Against a very hittable Shane Mosley, Canelo averaged 45 punches per round thru the first 6 rounds; and a staggering 66 punches per round over the final 6 rounds in the second half of the fight, with a high tally of 74 in the 12th and final round. In that same fight he threw a total of 673 punches, landing 52% in total and 57% of his power punches. Critics would argue that he only did that because it was Mosley. For those in that contingent, consider this: Against the much more defensive Austin Trout, Canelo averaged 32 punches per round over the first 6 rounds and still managed to find the energy to increase it to a solid 39 punches per round over the final 6 rounds.
His total punch output in this fight was 431, with 43% of his power punches landing and a not-so-great 29% of his overall punches landed. What does this tell us? Averaging between 39 and 66 punches per round in the second half of these fights clearly demonstrates that tired or not, this is a dangerous man throwing more than enough dangerous punches late. Flipside of the coin is that this also proves solid defense and ring intelligence can severely limit his chances to a "punchers chance". Does he have stamina issues? Clearly not with this extremely high output ratio. But a person who can make him miss and make him pay has a much better chance to find a way (to victory)!
DOES CANELO's COMBINATION PUNCHING GIVE HIM THE UPPERHAND?: Most view Mayweather to be a "one-punch wonder", throwing one punch at a time. To the contrast, many view Canelo as a busy combination puncher who quickly racks up points. Does that automatically give Canelo the upperhand on the cards? Simple mathematics tells us yes! But a closer look tells us potentially not. Mayweather typically seeks the best path to victory. When it means getting a little dirtier, so be it! The Cotto fight was a perfect example. Typically, Mayweather would take the energy conservation path and do less punching.
Against Cotto, Mayweather averaged a staggering 57 punches thrown per round, and tallied a very out of character 687 total punches thrown in the fight. Clearly it helped him against Cotto. Trouble is, Canelo is no Cotto. Against Guerrero, Mayweather averaged 44 punches per round over the final 6 rounds, and threw 476 punches in total. So…..does combinations give Canelo the upperhand? Not automatically. Cotto learned, there's a great price to pay for staying in the pocket long enough to throw multiple punches. Much of the emphasis has been placed on whether or not Mayweather will be willing to "walk through the fire". By the end of the night, we could fully understand why Canelo would have been better off choosing not to? Stay tuned.
OFFICIAL PREDICTION
What fuels Floyd Mayweather? To understand, you'd have to comprehend the weight that rest on his shoulders. His personal legacy supports an entire family. A very proud one, at that. And in front of him stands a grave challenge which reminds him that something which took decades to build up could quickly come crashing down! This is arguably the biggest test of his career and it comes at the ripe of 36. A place where anyone not named Bernard Hopkins struggles to cross the finish line. Within the past 2 years, Boxing has seen every great welterweight contender of Mayweather's era ushered to the doorstep of the sport. No longer able to fully contend with a new crop of younger, bigger, faster, and stronger models.
Margarito, Cintron and Williams………done! Judah, Cotto, Clottey & Mosley fight on, yet neither are expected to do little more than serve as gate-keepers of today for hero's of tomorrow. Mayweather has taken pride in being the last man of that era standing, yet fate tells us that all good things must come to an end. He has shown us in the past that there are many tools in that proverbial "tool belt" he carries into the ring. To win tonight, he'll have to grab one we've never seen. I agree with those who have no doubt he can. But tonight, there's simply not a legible path that says he will. Missing is a clear path to victory for him. Present are several angles to defeat. This is the very stage legends live for. And our inability as fans and media to see a path to victory rarely stops a legend from creating one…..right before our eyes!
MAYWEATHER VIA CLOSE SPLIT DECISION: 114-113 (Upset Barometer: Peaks at 5 of 5 – On the strength of Canelo landing a flash knockdown to disrupt a razor thin lead giving him the edge or forcing a Draw)
MATTHYSSE STOPS GARCIA VIA TKO7 (Upset Barometer: Peaks at 3 of 5 – If Garcia last beyond 9 rounds, all Matthysse bets are off. Very slim chance he does).
Weigh-In Gallery:
(Vivek "Vito" Wallace can be heard every Tuesday night at 9ET/6PT on "Left-Hook Lounge Radio". Also, he can be reached at 954.300.5692, Twitter (@vivekwallace747), Instagram (ViveksView), and Facebook).