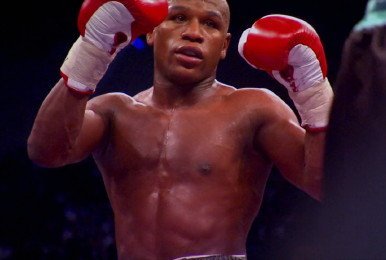 Stephen Espinoza, the vice president in charge of sport for Showtime, says that Floyd Mayweather Jr. (45-0, 26 KO's) had a hard time trying to decide on who he should fight next for his May 3rd fight card. He was stuck between Marcos Maidana and Amir Khan for his next fight, and he finally decided to go with the smart pick in selecting the more accomplished Maidana instead of the struggling Khan.
Mayweather made the only choice he could make in selecting Maidana, because to select Khan would be a case of Mayweather selecting a guy who Golden Boy Promotions had to put the training wheels back on him after his back to back losses to Lamont Peterson and Danny Garcia.
Golden Boy had to put Khan in with Carlos Molina and Julio Diaz because his career was on the brink of implosion. Of course, Mayweather couldn't fight a guy like Khan after two nothing wins over those guys, especially with his win over Diaz being a controversial one.
"Floyd spent a lot of time ruminating, going back and forth," Espinoza said to the Telegraph. "It was a tough decision [for Mayweather] to pick Marcos Maidana. From Showtime Sports' perspective, both options would be interesting fights. Floyd recognizes that choosing the opponent for May 3 was not straightforward, and he's definitely considering Amir Khan for the future. We believe this is possibly the most expensive undercard in history."
The undercard may be an expensive one, but it's not a good one. Instead of putting all that money into having Khan fight Luis Collazo, and Adrien Broner face little Carlos Molina, Espinoza should have saved the cash and cut Collazo and Molina out of the equation and went straight with the Broner vs. Khan fight.
If one of them or their management didn't want to go with that fight, then they should have left them off the card instead of letting Broner get an easy fight against Molina and Khan against Collazo. Those aren't big enough fights to make the Mayweather vs. Maidana fight a huge success. To me, the undercard is a disappointment.
A Khan-Collazo fight would have been a good one back in 2006 when Collazo was still a relevant fighter, but he's been out of things for too long. And the Broner-Molina is just bad, period. That's not even worth having on the card in my view. Broner vs. Molina would be a good fight for the Keith Thurman vs. Julio Diaz card in April, but definitely not a good fight for something that is going on PPV.