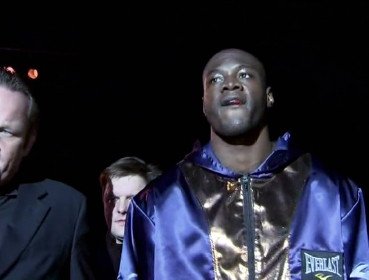 Share the post "Deontay: I'll break Arreola's nose; Stiverne has no chance against me"
Unbeaten heavyweight contender Deontay Wilder (31-0, 31 KO's) says he can't wait to get a shot at whipping the winner of the May 10th fight between Chris Arreola (36-3, 31 KO's) and Bermane Stiverne (23-1-1, 20 KO's) for the WBC heavyweight title. Stiverne and Arreola will be fighting for the vacant WBC title in their bout, but then the winner has to face Deontay next until they choose to go for a unification bout against Wladimir Klitschko, the IBF/WBA/WBO/WBA heavyweight champion.
Deontay, 6'7", wants to break Arreola's nose in the same way that Stiverene did last April when he beat Arreola by a 12 round unanimous decision after shattering his nose in the 3rd round with a hard right hand. Deontay feels that he'll do the same thing if he gets a shot at facing Arreola for the WBC title. Deontay likes that match-up a lot.
"I'm gonna break it [Arreola's nose] in 20 different places," Deontay said to Fighthype. "Believe that…Stiverne is a counter puncher. He don't pressure nobody…He has no chance. They say every fighter has a puncher's chance. He has no chance. It is gonna be great."
Depending on how injured the winner of the Arreola-Stiverne comes out of that fight, it's quite possible that Deontay may have to wait until early 2015 until they finish licking their wounds and are ready to get back in the ring to face Deontay.
Arreola figures to be the tougher fight, Deontay says. He sees Arreola as tougher due to the pressure that he'd put on him. Deontay still sees Arreola as an easy mark for him to knockout after breaking his nose, but it'll still be the harder fight because of Arreola's aggressive fighting style and his bigger size compared to the shorter 6'1" Stiverne.
The Arreola-Stiverne fight will take place at the Galen Center, in Los Angeles, California, USA.
Deontay has talked a lot already about how he can easily beat both Stiverne and Arreola. He may be setting himself up for a big fall if he can't backup his big talk.