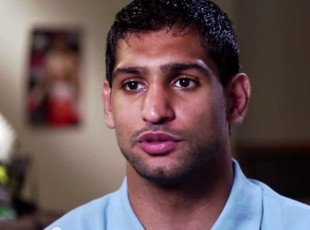 Amir Khan's many twitter followers have voted him in as Floyd Mayweather Jr's next opponent on May 3rd at the MGM Grand in Las Vegas, Nevada. The Mayweather poll ended yesterday at his site at Mayweather Promotions, and the final numbers showed Khan winning 57 percent of the vote with 20,105 votes compared to Maidana's 15,474. You've got to give a lot of credit to Khan for doing a good job of encouraging his many followers to go to the Mayweather Promotions website and vote for him in the poll.
There was no official message at the Mayweather Promotions website about Khan now being the guy that Mayweasther will be facing next, but we'll likely be hearing something from Mayweather himself shortly, unless he changes his mind about wanting to use the poll as his method for selecting his next opponent for his May 3rd fight. I doubt he'll do that, because having Khan as his next opponent actually works out better for Mayweather than it would if Maidana were his next opponent.
Khan has a large fan base in the UK, if not the U.S., and there will be will pay-per-view money from the UK. Khan is very good at giving interviews, and attracting attention to his fights with his bold predictions. It'll be interesting just to see what Khan will be saying. The fight itself shapes up to be a mismatch along the lines of Mayweather vs. Victor Ortiz, and possibly even worse than that due to Khan's chin problems.
Khan obviously isn't coming into the fight under the best of circumstances considering that it's been years since he last beat a good opponent. He lost to Lamont Peterson and Danny Garcia. Khan was then matched against Carlos Molina and Julio Diaz. Khan beat them, but they're not top tier guys. Khan beat Zab Judah in 2011, and that was the last good win for him.
It would be surprising if the Mayweather-Khan fight brings in big PPV numbers, but it's definitely possible because of Khan's ability to talk himself up in the media. Mayweather hasn't faced an opponent that could talk as good as Khan for some time.
Khan will likely be perceived as the bad guy and Mayweather the good guy in this match-up by some in the media. It'll be interesting to see if Mayweather lets Khan do all the talking during the build up to the fight.