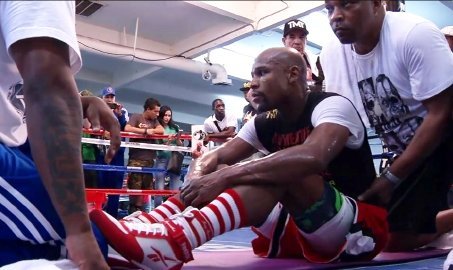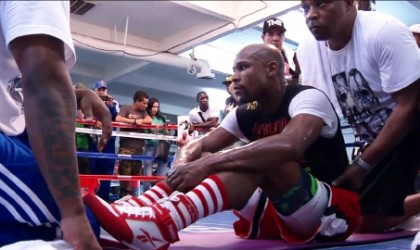 Floyd Mayweather Jr. is fixing to get the biggest payday of his career against the red-haired Mexican fighter Saul "Canelo Alvarez on September 14th. Mayweather will be collecting $41.5 million bucks in the fight, according to Golden Boy Promotions CEO Richard Schaefer. There's also a chance that Mayweather could make even more than that figure if the Mayweather-Canelo fight breaks the all-time PPV mark. I don't think it will, but there's a chance.
Canelo is said to be making over $10 million for the fight, according to Dan Rafael. That's pretty good money for a fighter that has never really fought anyone good during his career other than Austin Trout. Canelo is more famous for being famous than for having accomplished anything special during his career.
This payday will top Mayweather Jr's previous high of $32 million in his fight against Miguel Cotto last year in May of 2012. Mayweather Jr. to be getting over $40 million against Canelo, they got to be hoping that the pay-per-view numbers top 1.6 million for this fight. If it only comes to $1.4 million for this fight, it's going to be a big disappointment for all.
Oscar De La Hoya's been talking endlessly about how Mayweather-Canelo will bring the all-time PPV mark of 2.4 million set by Mayweather-De La Hoya in 2007, but that just seems like a pipe dream on De La Hoya's part given that there are massive amount of Americans who have no idea who Canelo is. They will after this fight, but right now he's still an unknown to a lot of fans.
Making that kind of money against Canelo might make it tempting for Mayweather Jr. to keep fighting him. Mayweather Jr. has 5 fights left on his Showtime/CBS contract, and if he gets $40 million per fight in facing Canelo, Mayweather Jr. would wind up with over $200 million in his next 5 fights alone.
That's not even counting Mayweather Jr's purse for the first fight of the contract against Robert Guerrero. Mayweather Jr. could up with a ton of cash. If he doesn't throw it all away with foolish gambling and useless jewelry, he'll have a lot of money for the remainder of his life. I can't help thinking that he'll eventually lose very penny with spending, but that's on him.