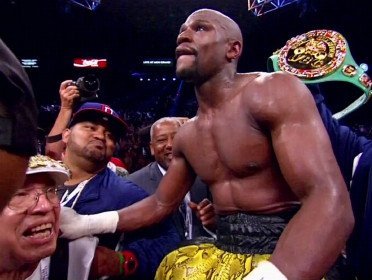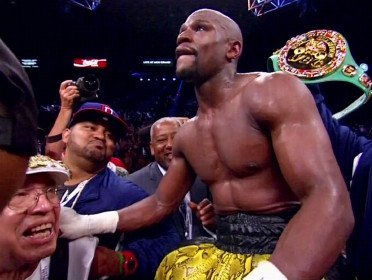 Floyd Mayweather Jr. just revealed that he'll be facing Mexican star Saul "Canelo" Alvarez on September 14th at the MGM Grand in Las Vegas, Nevada. The fight will take place at a catch-weight of 152 lbs, according to Dan Rafael of ESPN. That still gives Canelo a big advantage because he only has to go two pounds lower than the normal 154 weight limit. If Mayweather had asked for a catch-weight at 150, then it would be a lot tougher on Canelo because he's so huge for the junior middleweight class in terms of weight.
Mayweather said this on his social media site just now: "I chose my opponent for September 14th and it's Canelo Alvarez. I'm giving fans what they want. It will be at the MGM Grand."
This is a brave move by the 36-year-old Mayweather because Canelo is pretty much a middleweight who fights at junior middleweight. Canelo will likely be near or over the 170s. Mayweather came into his last fight against Robert "The Ghost" Guerrero this month weighing only 146 lbs. and looking in great shape. If Canelo is able to come into the fight at 170, that will give him a big weight advantage.
Mayweather can't afford to mix it up with Canelo for any length of time because he'll probably be giving away a massive amount of weight in this fight. Mayweather struggled against 165 pound Miguel Cotto last year in May, and Canelo will likely come in heavier than that on fight night. As long as Mayweather doesn't stand in front of Canelo, he should be okay.
There's no word about whether the World Boxing Council will be using open scoring again. Canelo had that for his last fight against Austin Trout and that seemed to really help Canelo in the second half of the fight when he started to tire. When the judges scores were announced after the 8th, showing that Canelo had a wide lead, he was able to rest for most of the remaining rounds. Knowing he had a huge lead, Canelo fought defensively and won by a 12 round unanimous decision.