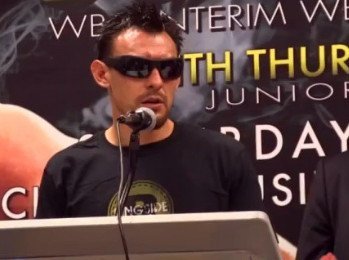 WBC interim welterweight champion Robert "The Ghost" Guerrero (31-1-1, 18 KO's) really only has one way to beat WBC welterweight champion Floyd Mayweather Jr. (43-0, 26 KO's) on May 4th and that's by using the same game plan that he employed in his recent fight against Andre Berto last November in throwing a lot of punches.
Guerrero, 29, was able to overwhelm Berto with nonstop punches, and give him a real beating in the process of winning a 12 round unanimous decision. To be sure, Guerrero was helped immensely by Berto's decision to use the shoulder roll defense for the first time in his career, and by choosing to fight with his back against the ropes instead of staying in the center of the ring.
Berto gave Guerrero two huge advantages in the fight by opting to fight in that manner because he would have been a lot more effective had he abandoned the shoulder roll in the 1st round, stayed off the ropes, and fought with his normal fighting stance. Guerrero isn't going to be able to count on Mayweather making the same kind of mental mistakes.
Mayweather uses the shoulder roll, but he actually knows how to use it, and he's not just messing around with it for the first time in his career like Berto was against Guerrero. Mayweather might choose to fight off the ropes at times, but he's so much more effective in fighting from that position compared to Berto.
It's like night and day comparing the two. Guerrero won't have a picnic if he does get Mayweather up against the ropes to try and unload on him because his punches won't be connecting with the same kind of accuracy that Mayweather's will.
The only unknown thing about this is fight is whether Guerrero can overwhelm Mayweather with his high punch volume. That alone may make up for his lack of talent compared to Mayweather. If Guerrero can throw three times more punches than Mayweather each round, he could win in that manner.
Mayweather doesn't throw a lot of punches, especially now that he's up there in age at 36. Guerrero could throw nonstop punches and force Mayweather into a fight that he's not really equipped for at his age.