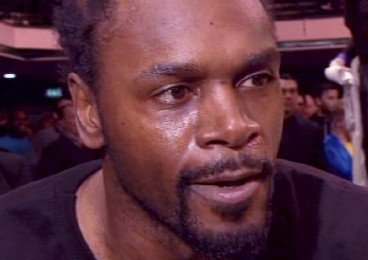 Former 2000 Olympic Gold medalist for Britain Audley Harrison (31-6, 23 KO's) has agreed to face unbeaten American heavyweight contender Deontay Wilder (27-0, 27 KO's) on April 27th on the Amir Khan vs. Julio Diaz card at the Motorpoint Arena, Sheffield, Yorkshire, United Kingdom.
The card will be televised by Showtime in the United States, but it's still unclear whether the Harrison-Wilder fight will make it on the televised portion of the card. You would have to figure it would be because it'll likely be the co-feature on the card.
Harrison said to his social media site today "I have AGREED to take the fight [with Wilder] with 5 weeks' notice. We're close. Hopefully we get there on all details."
Of course, Harrison isn't going to say no to the fight, but I don't blame him for trying to let the negotiations drag out as long as he can so he can get a good payday out of it. It's going to be pretty much a one-sided beat down because Wilder is much too strong for Harrison, and chances are Harrison will freeze like he sometimes does when facing a big puncher.
We saw that last October in Harrison's 1st round knockout loss to David Price, and then also in Harrison's 3rd round knockout defeat at the hands of former WBA heavyweight champion David Haye. In both cases, Harrison looked like someone that had stage fright and couldn't perform. That was just awful to look at.
Harrison did win the Prizefigther tournament last February in beating Martin Rogan, Claus Bertino and Derric Rossy, but there's a huge difference between those guys and the hard hitting Wilder. Those guys aren't big punchers and weren't able to test Harrison's fragile chin the way that Wilder will be on April 27th.
I did like the fact that Harrison came into the tournament at 237 pounds, the lightest weight of his 13-year career. Harrison is a much better fighter when he's light, and I wonder why he didn't do this earlier in his career. But it won't matter. All the advantages that Harrison had against the Prizefighter tournament competition in terms of size and reach will be completely negated by the taller, much more powerful 6'7" Wilder.
No secrets in boxing eh!

I have AGREED to take fight with 5 weeks notice. We're close, hopefully we get there on all details. Nothing more

— Audley Harrison MBE (@audleyharrison) March 25, 2013