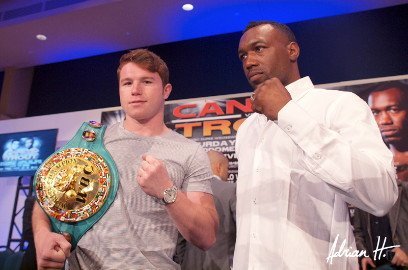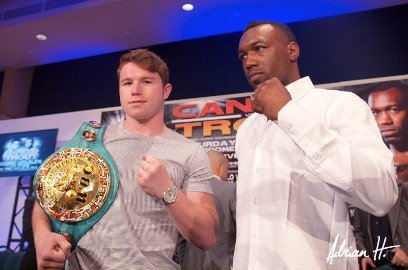 WBA junior middleweight champion Austin Trout (26-0, 14 KO's) doesn't believe that the 22-year-old WBC junior middleweight champion Saul "Canelo" Alvarez (41-0-1, 30 KO's) has developed his full power as of yet, and still isn't strong enough to defeat him when the two meet up on Showtime on April 20th at the Alamodome in San Antonio, Texas.
Trout said to Fightnews.com "I don't think he [Canelo] has developed his man strength yet. I will impose my will on him…I took the belt from his older brother [Rigoberto Alvarez], and I am going to take his, too."
Trout worked over Canelo's brother Rigoberto in beating him by a lopsided 12 round unanimous decision two years ago. Trout was able to elude Rigoberto's attempts at getting inside to work his body with hooks. Trout made it look easy, as he skillfully stepped to the side each time Rigoberto would rush him to land his body shots.
Rigoberto and Canelo aren't the same fighters, but they do approach their body punching in the same identical manner, and Trout did make Rigoberto look like he had two left feet. Can Trout do the same against Canelo? It's possible.
Canelo is two inches shorter than his brother Rigoberto, and he's faster than him. The main difference between the two fighters is that Canelo has more power than his brother. If he can't land his shots on Trout, then the power will be useless for him.
I believe that Canelo won't develop more power as he gets older because he's pretty much the finished product right now. Canelo is one of those fighters that matured early in his career, and he's about as good as he's ever going to be.
If anything, Canelo will likely grow out of the junior middleweight division within two or three years, and will be forced to fight at middleweight. That won't be so bad once Sergio Martinez retires, and Gennady Golovkin starts to fade as a fighter. But right now it would be a bad idea because those guys would likely beat Canelo.