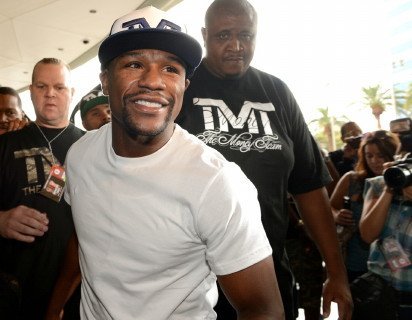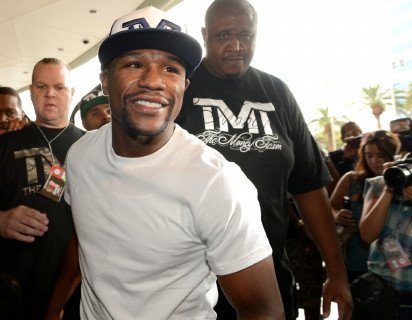 (Photo credit: Naoki Fakuda) It could be said that the form book will very much be obeyed on Saturday night in Las Vegas, that the expected fighters will emerge victorious and that all fight fans who pointed out the obvious before it went down will be made to look like know-it-alls as a result. Indeed, most people think Floyd Mayweather will out-point Canelo Alvarez, that Lucas Matthysse will have too much power for Danny Garcia and that there will, by and large, be no shocks inside a buzzing MGM Grand.
Still, as great a night as September 14th promises to be, it would be amiss not to write a pre-fight predictions piece – and there is the intriguing undercard action to look at (arguably the two toughest bouts to call being Ishe Smith-Carlos Molina and Ashley Theophane-Pablo Cano).
So here goes, my predictions for "The One" and its undercard:
Mayweather WU12 Alvarez.
Okay, a predictable prediction, but some knowledgeable fans/experts ARE saying Canelo will somehow manage to do the unthinkable and not only beat Mayweather but stop him. Alvarez, too, is astonishingly confident and self assured. The main factor in this fight, though, will be speed. I just can't see the young Mexican being sharp enough, certainly not consistently, to prove too much for Mayweather. In spells Canelo will make things interesting for the crowd, but ultimately it will be the same old Floyd. Age has no bearing on this fight, at least not Mayweather's. Floyd will again make it look easy and the only rounds he will lose will be those he coasts through as he takes a breather.
Scores I see: 118-110 (Twice) and 117-111.
Matthysse KO 5 Garcia.
Will it even last that long! Garcia, a talented and, never forget, unbeaten fighter, has shown heart in taking this fight (did he really have much choice? ) but the decision will prove to be a costly one.
Matthysse, the Pound-for-Pound hardest puncher out there, is on a roll, he's at his peak and he's out for blood (and another highlight real KO). Angel Garcia won't be able to get inside the head of his son's opponent this time. Garcia will box cautiously early but he can and will be tagged sooner or later (how many times did Khan, judah and even an ancient Morales catch his chin?).
As we know, Matthysse doesn't need to land too many punches to end things. Come to think of it, maybe this one will end a lot sooner than the 5th round!
Undercard:
Look for the latest member of Mayweather's team, in Brit Ashley Theophane, to edge out a close points verdict over the always-dangerous Pablo Cano of Mexico. This one will give fans a little extra value for their hard earned money.
Sadly, the Ishe Smith-Carlos Molina scrap will not (not in my opinion anyway). A bad clash of styles, this one has stinker written all over it. Smith, a good fighter, will retain on points. But not too many people will care too much after 12 dull sessions.
The big question may be whether or not a first loss, possibly a humbling and onesided loss, will damage Canelo. And how much.