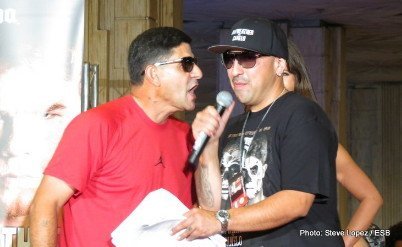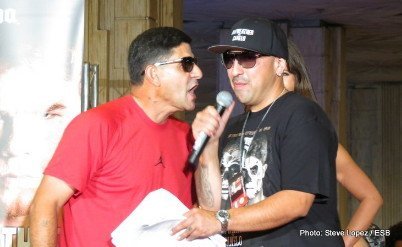 When the Junior Welterweight super-fight between Philly native Danny Garcia and hard punching Argentine Lucas Matthysse was initially announced as the co-main event for "The One" PPV spectacular on September 14th, fight fans around the world had one more reason to celebrate.
Not only would boxing fanatics finally see Floyd Mayweather Jr face undefeated Junior Middleweight Champion Saul "Canelo" Alvarez on Mexican Independence weekend, but they would also get to find out who the hardest puncher in the packed Junior Welterweight division truly was.
To pugilistic die-hards everywhere, this was sure to be like Christmas in September.
But when the promotional tour and hype train started to roll down the mainstream track, one crucial ingredient was missing from the recipe for sure-fire commercial success: A certain loud mouthed trainer from the city of brotherly love…Angel Garcia.
What would a pre-fight promotion be without the antics of everyone's favorite trainer to hate?
With an entire promotional budget geared towards a multi-city tour that featured Mayweather and Canelo, as well as the production of an "All-Access" three part series on Showtime, the potential bedlam which was sure to be created by one Mr. Angel Garcia would never make its way to the mainstream consciousness.
Was the Mayweather/Golden Boy Promotional think tank forgetting about the human sound bite machine from Philly? Didn't it occur to Oscar and the boys that Angel Garcia could single handedly account for several hundred thousand more PPV purchases with just a couple of perfectly timed politically incorrect slurs?
Just like thousands of disgruntled fight fans everywhere, boxing trainer "Iceman" John Scully was greatly surprised of Mr. Garcia's absence during the pre-fight promotional hype.
"First of all, it's amazing that the match-up between Lucas Matthysse and Danny Garcia is on this fight card, but I think it's more amazing that only the die-hard fight fans realize that it's on this fight card," professes the former Super Middleweight contender. "The casual fight fans and mainstream sports fans are only talking about the Mayweather/Canelo bout. No one is talking about what will more than likely be the best fight of the night…Garcia versus Matthysse."
"This is such a big fight and it deserves so much more recognition than it's getting."
"When this fight was first announced, everyone at my gym was talking about how they couldn't wait to hear what kind of words Danny's father would have for Matthysse and his team in the build-up to September 14th. Everyone was genuinely excited to hear what kind of craziness would come out of that man's mouth on the promotional tour. It was sure to be unbelievable!"
"Whether you like Angel or not, you really want to hear what he's going to say next…and here's the thing; love him or hate him, Danny has been winning all of his fights and making his dad look like a prophet in the process."
"He really adds the drama to all of Danny's fights," insists John Scully.
"Angel makes you really want to see what how his bouts are going to unfold."
But just as all seemed lost, "Mighty Mouth" arrived to save the day.
Danny and Angel Garcia showed up at the MGM Grand on Tuesday afternoon for a pre-fight media appearance, and the usually boisterous Philly trainer didn't disappoint.
When asked by the master of ceremonies what he thought about the upcoming fight between his son and Lucas Matthysse, Mr. Garcia had a few choice words for the fortunate eyewitnesses in the MGM lobby.
"Look, Danny has always been the underestimated guy," exclaimed Angel Garcia. "Everyone wants to be Argentine this Saturday night. But they forget where we live…in America. We're in America, baby…USA, USA, USA!!"
"Everyone wants to be Filipinos, Argentinos, Chicaninos, Muninos…Get the F outta here! Everyone ain't gonna do ****! He ain't gonna do ****! He ain't gonna do ****! His trainer ain't gonna do ****!"
"Listen, listen, listen…We do the same thing over and over, and he doesn't change our life…God does!! Do you understand what I'm saying? He ain't gonna do ****!!"
"Listen, listen…if you gamble and don't put your money on Danny, you're gonna lose! Listen, Vegas don't know nothing…the world don't know nothing…only I know everything!!"
As the misunderstood boxing salesman was leaving the stage, he commenced to flipping off the media members in attendance.
Who knows? With only four days until the big event, Danny Garcia versus Lucas Matthysse might just begin to get the media coverage it so richly deserves.
Angel strikes again…just in the nick of time!!