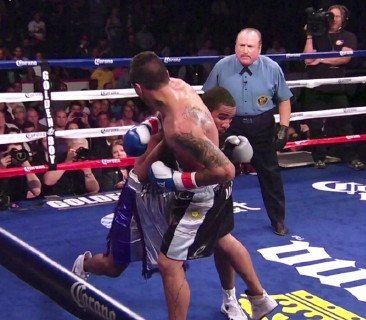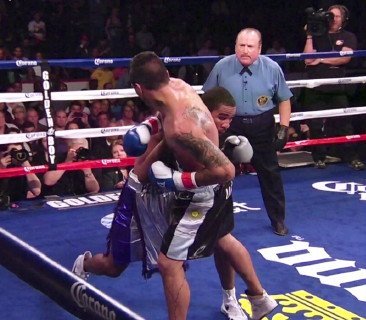 WBC interim light welterweight champion Lucas Matthysse (34-2, 32 KO's) doesn't mind being called the new Manny Pacquiao, but he much rather get a fight against the aging Filipino fighter before he retires or ends up getting knocked out again. Matthysse knocked out Lamont Peterson in the 3rd round last Saturday night, and at the post-fight press conference, Matthysse's promoter Richard Schaefer called him the new Pacquiao.
This was Matthysse's 6th straight knockout and he's looking really powerful right now and similar to how Pacquiao looked in his prime.
Matthysse said "I didn't imagine I would knock him [Peterson] out so fast. I was expecting a tougher fight. I'm happy to be compared to Manny Pacquiao, but what I want to do is fight him."
I wish Matthysse a lot of luck in trying to get a fight with Pacquiao because that's going to be impossible unless Golden Boy and Top Rank can heal their riff. Top Rank promoter Bob Arum isn't going to feed the struggling Papcquiao to Matthysse like he's a morsel.
If anyone is going to knock Pacquiao out cold again it's going to be one of Arum's Top Rank fighters like Brandon Rios, Tim Bradley, Mike Alvarado or Juan Manuel Marquez. He's not going to let a fighter from another promotional company swoop in and get the fight with Pacquiao and knock him out before Arum can put him with his own guys.
At this point in Pacquiao's career it wouldn't be a good thing to put him in with Matthysse. Just picture Pacquiao getting hit over and over again all night with the same kind of right hand that he was knocked out with by Marquez last December.
I can't see Pacquiao lasting more than two or three rounds at best. The way he's slipped recently kind of reminds me of how Julio Cesar Chavez Sr. looked when he suddenly aged and started getting beaten.